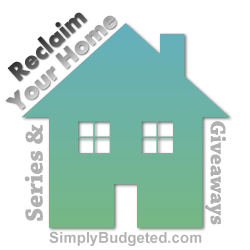 With kids returning to school and life returning to a routine, it is time to reclaim the clean and well ordered house we know is under the clutter and dirt of the summer! We are going to feature a series in September/October that features reviews and giveaways that focus on cleaning, organizing, spiffing up, and updating items around our home that the wear and tear of the summer wore out!
We are accepting participants through September 4th!
Brand Participation Options:
Review only option (example post: Hershey's Simple Pleasures)
Review with a giveaway option (example post from an earlier event: Easy Canvas Prints)
Review with a group giveaway option (prize needs have a value of $75+ for this option). (NEW! Example participant post: Baby Gifts – One Step Ahead)
Sponsorship of a giveaway (such as an Amazon.com gift card)
The giveaway products and value are up to your brand.
We always aim to include personalized photos in post. If there special requests for posts, we will work with you prior to posting to try to accommodate the requests in the post.
Have questions? Want to participate? Let us know soon by email us at [email protected]!