Summer a great time to try going meatless every once in a while.  This week's Meatless Monday is ridiculously easy and takes advantage of great, fresh, seasonal produce.  Biting into a fresh tomato is like taking a bite right out of the summertime.  We baked up some frozen biscuits, slathered on a little mayo, and added a nice thick slice of tomato and some cheddar cheese.  Serve these for breakfast, lunch, or dinner or even as a quick snack.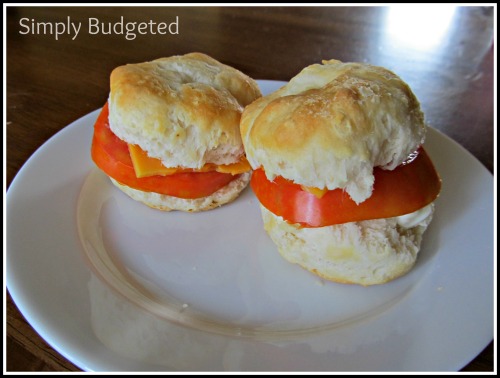 Does your family participate in Meatless Monday?  What are you having for dinner tonight?  Have a Meatless Monday experience, recipe, or request?  Leave us a comment and let us know.  We'd love to hear from you!
Meatless Monday, a national nonprofit public health initiative, is all about incorporating more vegetables and less meat into our diet. It's about moderation, just one day a week, cutting down on meats high in saturated fat and increasing protein-rich plant-based foods — good for personal health and good for the planet.