Please see the update to this post published on August 23, 2012!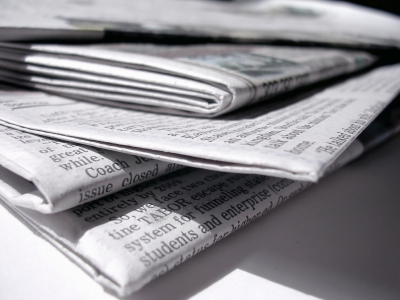 Back in May (May 14, 2012 is when our card was charged to be exact), I decided to be genius is and subscribe to the local newspaper. When I say local paper, it is a small town newspaper … publication is once a week. I had been trying to remember to stop by the paper box and use up my quarters to get a paper on Thursdays since the Girl Scouts were suddenly in the paper a lot. No more random stops on the way home and digging for quarters … this was going to perfect. Plus they were running a promotion when I called and it was half price. Even better for our budget plus my time being saved stopping every week!!
The first week, the paper came with our two other newspapers. Yes, we are newspaper snobs and get two other newspapers but they come DAILY (The Daily Progress and The Washington Post.) Honestly, we get The Washington Post for two reasons … the coupons (for me) and the crossword puzzle (for Brian). We get The Daily Progress to apparently keep up with what is happening at the University of Virginia (if I could skip that news, I totally would being a VA Tech alumna!) Yet, I digress. Here we were looking to get three newspapers one day a week but it only happened that first week … back in May!!!
For some reason the staff at The Greene County Record which is distributed through their "partner" The Daily Progress can't get a paper delivered to our house. Instead, Brian or I call them weekly to say once again we have no paper at house.
Is it really a wonder why no one reads the paper any more? I can't image why people won't read something that they pay for and it doesn't show up at their house.
Brian wants to cancel the paper. I refuse to cancel the paper because the delivery guy needs to do his job. It is simple … PUT THE PAPER in the paper box! The same delivery guy delivers all three newspapers! That means he is already at our house every single morning!! I know he has the Greene County Record in his car too … know how I know that?! The neighbors directly across the street from us get their Greene County Record every week. One of the nicer people I have talked in reporting this weekly even confirmed that we are assigned to the same delivery person as our neighbors (thank goodness because that would be completely crazy if we weren't!)
So once again I get to sit here and wonder if my phone call today will result in a newspaper next week. It may or it may not. I can let you know next Thursday.
What would do? Would cancel the subscription like Brian wants to or would you keep calling and make the paper figure out why they can't deliver your newspaper? Leave us a comment and let us know!