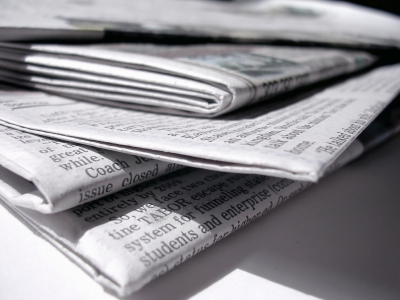 Last week, I finally posted about "The Saga of the Newspaper Subscription that Isn't Delivered." Well I have an update!
Shortly after that was published, we received a phone call asking about our problem. This was slightly humorous since the "problem" was documented with all of the reports of the missing newspapers. At the end of the call, Brian was told this problem would be resolved.
In the middle of dinner that night (everything always happens at dinner time doesn't it?!), the newspaper delivery guy brought us the paper from that Thursday. We assumed he was notified of the problem … finally but still didn't believe that would get the paper the following Thursday.
I am happy to report that the Greene County Record newspaper came last week  and again today with the other newspapers!
We are excited to finally get the newspaper I paid for two months ago but it is sad it took writing a post, sharing the post all over social media, and emailing it to the newspaper managers and editors for this to be resolved. Hopefully, the local newspaper will have learned a lesson in all of this though and follow up complaints from customers in a more timely fashion in the future.
I am happy I didn't cancel but I still wonder if it was worth all of my time to resolve this situation. I hope I will see a Girl Scout picture in the newspaper soon and I will forget about all of the drama it took to finally get the paper delivered to our paper box!