Why does it seem like we go to Mexican style foods so much during our Meatless Mondays?  I'll tell you why…because the options are just so incredibly yummy and we know that the kids will be happy eating it!  Today we are making Veggie Fajita Nachos.  The recipe is pretty basic.  Just think about having some yummy, smoky peppers and onions served over crunchy chips and drizzled with creamy white cheese dip.  Even the most adherent meat-eater would have problems saying no to that!
The great thing about this recipe is that you can really use this as a base to go a little crazy.  Add some refried beans.  Maybe some mushrooms.  Even some summer squash might make the cut if you have it handy.  Don't forget that bell peppers are not the only ones that you can use.  If you need to kick it up a notch, feel free to throw on some of the hot stuff!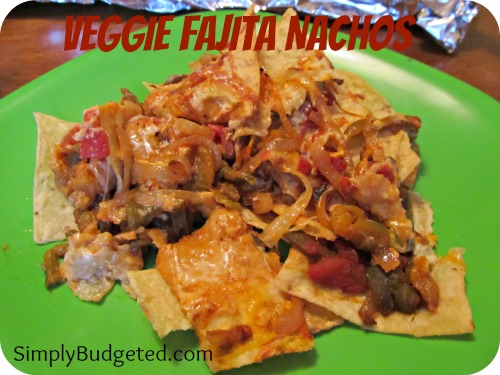 Veggie Fajita Nachos
Remember, better product in equals better product out.  You could just slice up some raw bell peppers, but you could also roast them first or grab a jar of roasted red peppers.  You could use an ordinary can of diced tomatoes, but what about some roasted tomatoes or a can of Ro-tel chiles and tomatoes.  Every little flavor punch you add means a better eating experience when it's all finished up.
Ingredients
1 Tbsp olive oil
1 medium onion, sliced
3 bell peppers, sliced (any colors work well here)
1 clove garlic, minced
1/2 tsp salt
1 tsp black pepper
1 tsp cumin
1 14.5-oz can diced tomatoes, drained
tortilla chips
1/2 cup shredded Mexican style cheese (cheddar, jack, etc.)
1 cup white cheese dip, warmed
Optional:  Salsa, sour cream, guacamole
Directions
Preheat oven to 375 degrees.
Heat oil over medium-high heat.  Add onions, peppers, garlic, salt, pepper, and cumin.  Saute over medium to medium-high heat until vegetables are just starting to brown, 5-10 minutes.  Add the tomatoes and continue cooking until most of the liquid has evaporated.
Arrange chips in one layer on a foil-lined cookie sheet.  Cover with veggies and sprinkle shredded cheese over top.  Bake at 375 for 10 minutes until cheese is fully melted.  Drizzle warm cheese dip over top.  Serve with optional toppings, if desired.
Enjoy!
Does your family participate in Meatless Monday?  What are you having for dinner tonight?  Have a Meatless Monday experience, recipe, or request?  Leave us a comment and let us know.  We'd love to hear from you!
Meatless Monday, a national nonprofit public health initiative, is all about incorporating more vegetables and less meat into our diet. It's about moderation, just one day a week, cutting down on meats high in saturated fat and increasing protein-rich plant-based foods — good for personal health and good for the planet.