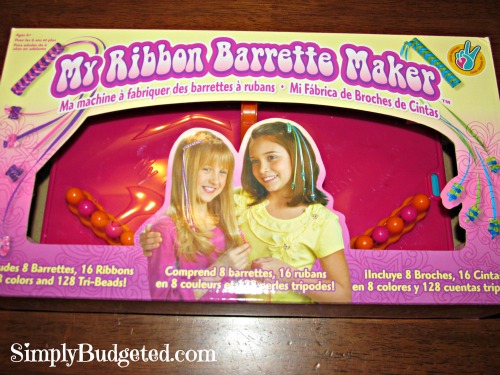 Details …
Create your own fabulous designs with the My Ribbon Barrette Maker. Start by securing your selected ribbons in the holder and loom, then braid and weave your pattern, adding colorful tri-beads to personalize your project. My Ribbon Barrette Maker includes loom, tray, 8 barrettes, 16 ribbons in 8 colors, and 128 tri-beads. Refill kit sold separately. Sold at specialty toy and craft stores including Michaels Stores. Refill kit available. Suggested Price: $24.99  for Ages 6+.
Our Thoughts …
The girls were beyond excited to see this arrive at our house! I set aside some time to work with them on this one Saturday morning. I knew Sophie (almost 5) would need help but Grace is 6 so I thought she could figure it out. I quickly realized the would both be helping pull the ribbon through and that the rest of the craft project making the barrettes was on me. They did enjoy the time sitting there talking with me and helping pull the ribbons through the barrette. They also LOVED picking out their ribbon colors and beads. Here is Sophie's barrette in progress …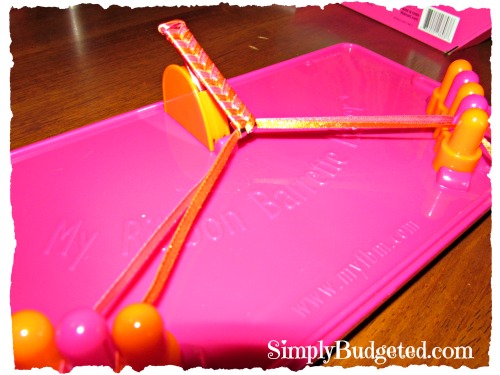 We made Sophie's first and then she ran away but Grace sat patiently waiting and helping to make her barrette. Here are the girls wearing their barrettes.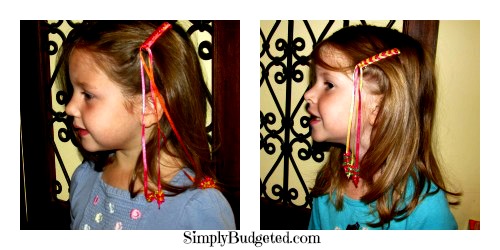 They love them. This is a great craft idea for girls. I would set the expectation that you need to be able to help at least start the barrette. This would be a great gift idea for a little girl in your life for sure!