I Love Cake and Jack and the Jack and the Magic Beans are the first two books of the My1story series. We had the opportunity to review I Love Cake!
book and the Lil' Riding Hood Plush too! You can find My1stStory at Amazon
!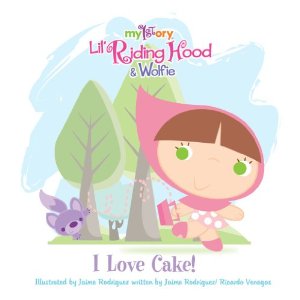 Details …
I Love Cake!

Through the woods goes Lil' Riding Hood, on her way to Grandma's house. And what's that scent that awakens sleeping Wolfie? Why it's a freshly baked pie! So off he goes to Grandma's house where Wolfie will learn that sharing is best. In this beautifully drawn storybook, my1story reintroduces the magic of this timeless fairy tale classic with an all new contemporary theme and story line. Look to my1story for its storybook collection of all-time favorite fairy tale characters.
Lil' Riding Hood Plush
Lil' Riding Hood plush is a super soft cuddly plush toy your child will love. What better way to enjoy reading the book adventures of Lil' Riding Hood then with your very own plush toy!
Sophie's Thoughts …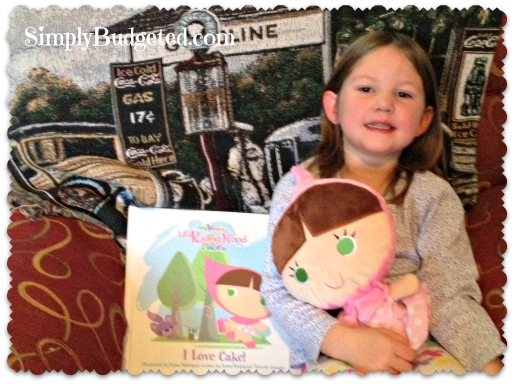 Sophie claimed this book and plush toy as soon as it arrived. She loves her new "doll" and will sit and read the book to her. Every few days, she will pull out the book and ask for someone to read it to her. Grace loves reading to Sophie so this has been a nice way for them to continue to bond as they get older! I love the non-scary version of the story that has a happy ending!
Both the I Love Cake! and the jack and the Magic Beans with their plush toys would make great holiday gifts!
We are excited to offer a giveaway to our readers! You can pick the I Love Cake! book, the My1story – Jack and the Magic Beans (Jack's Beanstalks)

book, Lil' Riding Hood Plush or the Beanie Plush
!
Plus check out myfirstory.com to find games, fun stuff and characters!