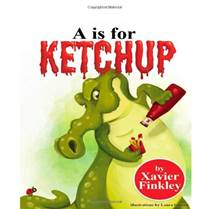 Details …
"A is for Ketchup" is a silly, picture book that takes advantage of the way children learn and optimizes their ability to quickly memorize the letters and sounds of the alphabet. Children are first given a humorous, incorrect example of each letter and then presented with a properly matching letter and object combination.
Our Thoughts …
Grace is our 1st grader that LOVES to read. When she saw this book, she giggled and laughed then exclaimed "A is NOT for ketchup!" This is one of Grace's favorite books right now. She loves to read this book to Sophie (almost 5) and Matthew (3). I love to hear her read this book to them because it goes through all of the letters of the alphabet in a fun, silly way that keeps the younger kids attention. Plus not only is Grace practicing her reading but the other kids are having another lesson in their ABC's. The last time that Brian volunteered in Grace's class, she begged to take this book with her to school. Brian had the opportunity to read the book to her class that day in school which she couldn't stop talking about all night.
Grace would definitely recommend this book for early readers! From the parent point of view, if you are working on ABC's or just listening to stories at your house, this would be a great, unique book to add to your home library!
You can find this book,  by Xavier Finkley who self-published using CreateSpace and Kindle Direct Publishing (Amazon's independent publishing services), on Amazon.  Right now it is included in the 4-for-3 promotion which would make it perfect for holiday gift giving!!

Do you know someone that would love to get this book? Leave us a comment and let us know!