In case you haven't heard, it's wintertime.  With all of the salt and sand going on the roads here soon, it's a good idea to start thinking about cleaning and protecting your vehicles.  The problem is that, with three kids, we hardly ever have the time to get out and clean the cars!  Even if we had the money for an occasional auto detailing, who wants to get those disapproving head shakes from the car guys because you have stuff on your floors that has been there for 6 months or more.  Please!  You can't tell me that those guys have never had a french fry on their floor!
Thankfully, you have help!  Advance Auto Parts has all of the stuff that you need at very reasonable prices.  You will be hard pressed to find a better selection of car care products.  We have even gone there to get batteries for our mower when Lowe's didn't have them!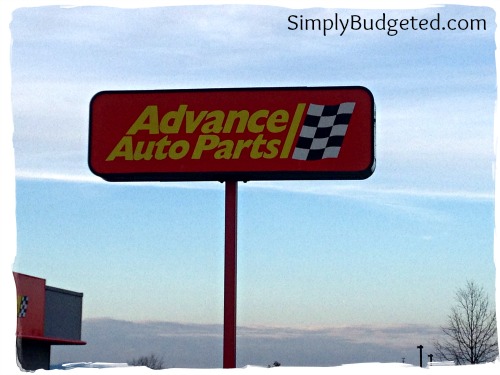 This sign just screams out.  It's like a beacon for car stuff.  I regularly see guys with classic or beat up cars in the parking lot trying to get them running right.  They are always driving out better than they drove in!
For a "new car" shine to your tires, $6 is not very much to pay!  Not only does it have a nice pretty shine, but it actually protects your tires from all of the stuff on the road in the winter.  Think of it like using furniture polish or oiling your cast iron pans.  You can get by without doing it, but it lasts longer and performs better if you do.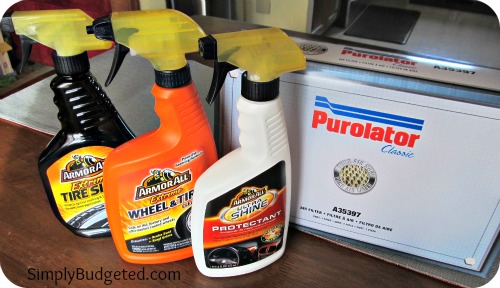 Well, shining dirt just gives you shiny dirt.  Better to clean the tires first!  While we're at it, we'll shine and protect the interior.  The air filter is there because I found out that I needed one from an oil change earlier.  The price to install it at the dealership covered the cost of all of this stuff!  Good to learn to do things yourself!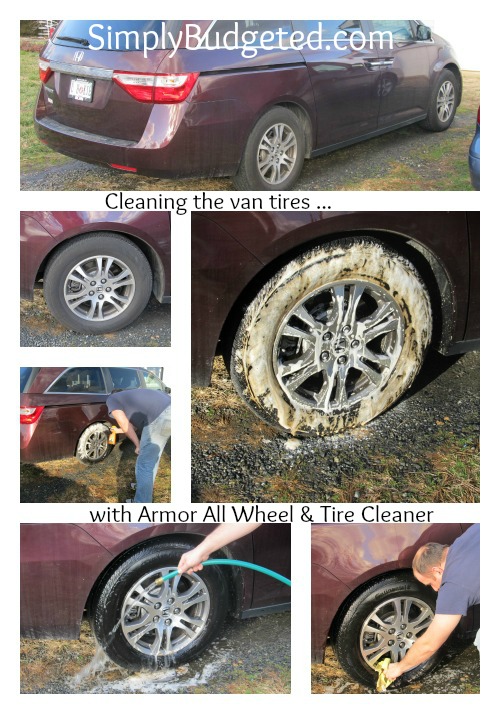 Ok, this little collage shows the process of cleaning the tires.  You can see all of the gunk and grime coming off.  Gross!!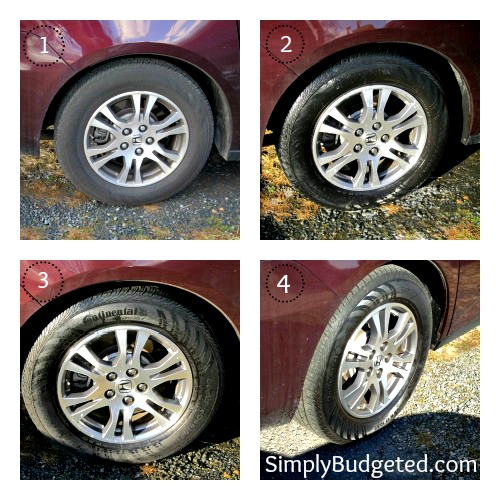 Here's the shining process.  (1) Start with a dirty tire.  Found one! (2) Clean tire (see above). (3) Dry tire. (4) Spray tire and allow to dry.  Enjoy a nice shiny tire on a dirty van!!
Now I guess we need to wash the van to match the tires.  Who's going to help?
Do you have a story about cleaning your vehicle?  Have you gotten disapproving looks from car buffs?  Share your comments with us!
NOTE:  I am a member of the Collective Bias™ Social Fabric® Community.  This shop has been compensated as part of a social shopper insights study for Collective Bias™ #CBias #SocialFabric