We are excited to work the Macy's again! Do you remember our post about the Rwandan basket last year?
This year you can find the Heart of Haiti Trays, Set of  2 Tea Leaf Nesting Trays at Macy's!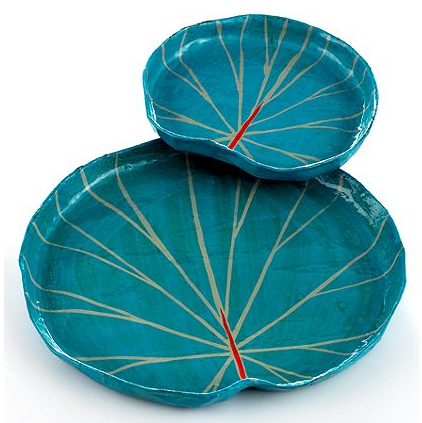 About …
Unique and beautiful, Tea Leaf nesting trays recall Haiti's lush natural landscape in eco-friendly paper. A raised edge makes each well suited for holding jewelry, perfume bottles and other objects.
Recycled paper
Wipe clean with damp cloth
Handcrafted in Haiti
Dimensions: 10″ x 10″ x 1″
Because each item is a unique work of art, variations in size and color will occur
Includes a Certificate of Authenticity
Signed by the artisan
Artisans receive half the wholesale price for each item sold
Our Thoughts …
When we first received this, I wasn't sure what to do with them. They are paper so they aren't for serving food so I was stumped. It doesn't help that most clean surfaces around here don't remain clean for long with school stuff, church stuff, and work stuff piling up them as soon as they de-cluttered. Then there was the color … a beautiful rich teal green color. We don't have a lot of bright colors in our decorating so I was stumped.
Then I walked into the laundry/powder room. (I  still don't know who thought of this combo and I would like to have a serious talk with them about how crazy it is but it is what it is.) I haven't painted this room yet. I can't figure out what color I want it … mostly because I want to replace the vanity in there and that is not on the home improvement list any time soon. So my solution has been to decorate with some colors that are not in our house in other places. Orange, Hot Pink, Bright Blue, and a Teal! Teal!! This room doesn't get steamy since there isn't a shower or bath in here so the paper trays should be safe in here … well as safe as they can be in a house with three kids ages 3-6! What do you think?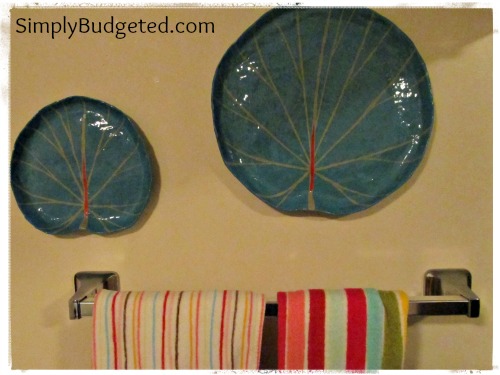 Have you check out the Heart to Haiti products at Macy's lately? Leave us a comment and let us know!
Everywhere provided me with product from Macy's Heart of Haiti. However, all thoughts and opinions expressed herein are my own.