So we made it through our monthly meal plan for January.  I wound up dropping about 15 pounds!  Beth was down almost 10!  That's a pretty good month of weight loss!  That having been said, we both know that we cannot sustain that lifestyle for but so long.  We have learned a lot over the past month and we can certainly incorporate many of those lessons into our daily routines.
We feel that certain dishes really need rice, but that others can go without.  We can go most days without any sort of bread or significant starch product.  What that means is that, instead of having a piece of bread for breakfast, lunch, and dinner, we can maybe just have a piece for dinner.  Or we can forego for most of the week and have a small stack of pancakes on the weekend.  Maybe we can use coconut flour or tapioca starch instead of wheat flour or corn starch when making breads or biscuits or when thickening sauces.  While these may seem like small steps, they are steps that we can take to reduce our everyday usage of some of the most offensive items.
As we prepared our plan this month, we had to note that we have a special week this month.  Beth week (our joking term for our anniversary on the 10th, Beth's birthday on the 12th, and Valentine's Day on the 14th) definitely affects some of our plans.  We are headed out of town for a couple of nights and I work several nights throughout the month.  On top of that, we are trying to save ourselves some time and trouble by pulling some prepared options from our local Sam's Club.  We are calling these our Sam's Specials.  All of these factors, in addition to our healthy inspirations, are taken into consideration as we put our monthly meal plan together.  We hope that you enjoy and can take advantage of some of our options.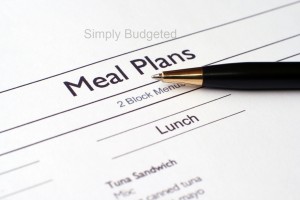 February 2013 Monthly Meal Plan
Week 1 (January 27 – February 2)
We are taken with coconut flour, oil, etc. right now.  Why not use it with shrimp, right?
Sunday–See January's Meal Plan!
Monday–See January's Meal Plan!
Tuesday–See January's Meal Plan!
Wednesday–See January's Meal Plan!
Thursday–See January's Meal Plan!
Friday–Coconut Shrimp
Saturday–Sam's Special
Week 2 (February 3 – 9)
The Super Bowl is a great reason to break the paleo fast, right?  Nachos it is!  A couple of pretty simple meals this week before a special dinner out with NO KIDS!!
Sunday–Chili Nachos
Monday–Caul-afel (Cauliflower Falafel) (Meatless)
Tuesday–Chicken Milanese with Bolognese Sauce
Wednesday–Baked Sweet Potato with Bolognese Sauce
Thursday–Chili Enchiladas
Friday–Dinner Out!!  Anniversary dinner without any kids!  YAY!!
Saturday–Sam's Special
Week 3 (February 10 – 16)
We've got a couple of Beth's favorites going this week.  She chose subs for her birthday and she'll never turn down a Spanish Tortilla or tacos!
Sunday–Tuscan Bean and Chicken Stew
Monday–Sweet Potato Tortilla (Meatless)
Tuesday–Beth's Birthday Choice (She chose Sub Sandwiches…glad to have a simple girl)
Wednesday–Breakfast for Dinner
Thursday–Tacos
Friday–Leftovers
Saturday–Pizza Night!
Week 4 (February 17 – 23)
This is the week after Mardi Gras so we figured that a good ole fashioned gumbo would hit the spot.  We'll be smart about the bread stuff this week by just having one serving of the bread and loading up on all of the other goodies.
Sunday–Chicken Gumbo
Monday–Black Bean Tostada (Meatless)
Tuesday–Sam's Special
Wednesday–Cheesesteak
Thursday–Fajitas
Friday–Leftovers
Saturday–Sam's Special
Week 5 (February 24 – March 2)
Roasted chicken is a great way to start the week.  The leftover chicken can then be used with the veggie tray and for nachos later in the week.  YUM!!
Sunday–Roast Chicken Dinner
Monday–Eggplant Parmesan with Mushroom Ragout (Meatless)
Tuesday–Veggie Tray
Wednesday–Sausage and Peppers
Thursday–Nachos
Friday–Stay Tuned for March's Meal Plan!
Saturday–Stay Tuned for March's Meal Plan!
As always, if you are looking for recipes or answers on monthly meal planning, please leave a comment or email us with your questions. We can't promise that we will have all of the answers, but we will do our best to find them! Just send us an email at [email protected].
Have you tried monthly meal planning? How did it go? Any tips or suggestions? Leave us a comment and let us know.