We are excited to continue our partnership with American Standard on promoting their Flush for Good Campaign.
Did you catch our review of the Champion Toilet in the Summer? How about the Flush for Good Campaign update in October? Well even if you missed both of those you can catch up and tag in on where the Flush for Good Campaign is standing.
We hope you are Following American Standard on Facebook and seeing their updates in your Facebook stream. Here is today's update (Nov 14):
Plus if you are following American Standard on Facebook you know the very important fact that November 19th is World Toilet Day.
That might seem silly to you but it is wonderful for this to be recognized since so many go without a toilet. I can tell you for a fact there are residents of Greene County, VA (where we live) that do not have running water or a toilet in their house. Some of these families have kids that go to school with my girls! We live right on the edge of the Blue Ridge Mountains and some of the homes in our county are way up in the mountains. These families are happy with the life they have but I admit that I can't imagine how they do it. I do wonder how the gift of a toilet would help even them. What do you know about the your community? Are those in your community without toilets in their houses? This is a problem that exists all around the world …
We love the Champion PRO Toilet we reviewed in the early Summer. We are on well water here. We love being on well water but we do really watch the water we use. Having a toilet that the flapper gets stuck and keeps running is not good for our well. We see a difference in water pressure for up to a day if a toilet is left running. We love that each flush of the Champion toilet only uses 1.28 gallons of water! Now we need to work on the goal of replacing the other toilets in our house so we can save more water! As an added incentive to upgrade before the end of the year, American Standard is donating a Safe Toilet pan (or SATO) to an area without plumbing infrastructure!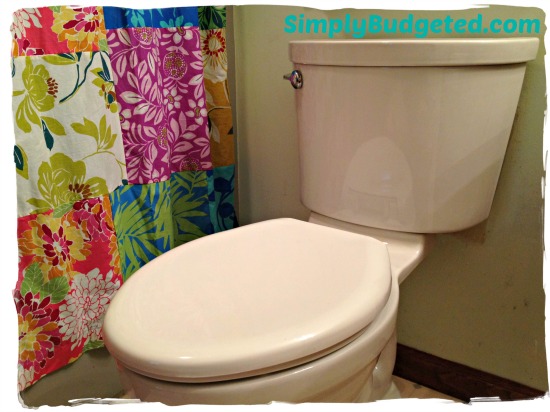 In our partnership with American Standard and their Flush for Good campaign, we are excited that we are helping them reach their goal of 10,00 donated sanitation pans by the end of the year. As part of this campaign, 30 pans are being donated in the name of Brian and I AND 30 are also being donated in the name of Simply Budgeted readers! That is YOU!!! We are excited that we are helping American Standard get 60 sanitation pans closer to their goal!
Check out Flush for Good for more information about this campaign!  While you are there, give a like or share.  For every 100 likes or shares, American Standard is giving 1 SATO to an area that really needs it.  Together, we can save thousands of lives!
We are also excited to offer one of our readers a chance to help out in their own way!  American Standard is offering one of our readers a $200 gift card to either Lowe's or Home Depot (reader's choice).  You can use it for whatever you want, but hope you decide to put it towards a Champion Toilet.  You get a new toilet and you get to help out a local community in addressing a host of sanitation problems.  Good Luck!!