We are excited to work with American Standard on a sponsored review of their Champion PRO Toilet.
Doesn't every girl dream of sending her dad a text message that says "Are your toilet install lessons still available?" Thankfully, my dad didn't miss a beat and agreed to help us through our first DIY toilet replacement. (He had helped me sister with two at her house last year so that was why I asked that question!)
We were happy to be rid of the grey toilet that would constantly run. A toilet that runs a lot is never good. A toilet that runs a lot when you are on a well is event worse. A grey toilet … there is just something completely wrong about that. And yes, we were THOSE neighbors and left the grey toilet in the flower bed for two days. oops!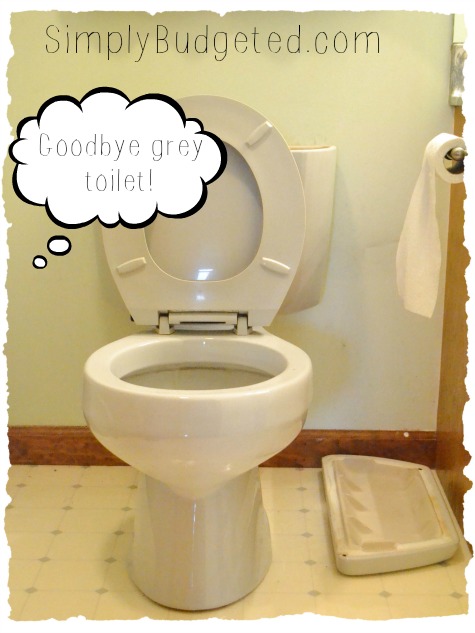 When the toilet comes in two boxes, it is important to assemble it. Apparently, that means assemble it in the closest space to the bathroom which is our Master bedroom … next to the bed is apparently even better. I tried to not cringe at this.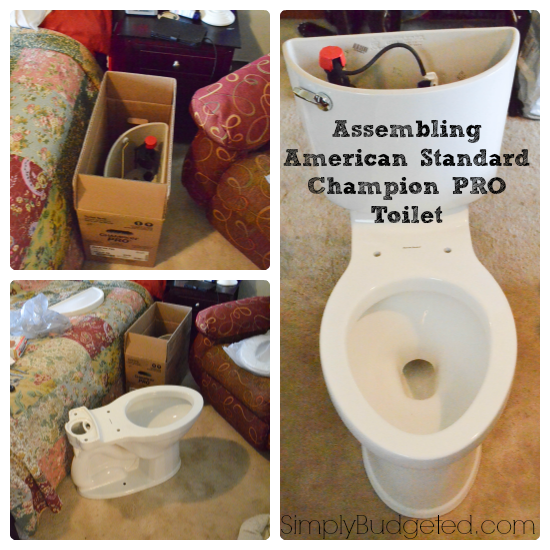 We needed a new wax ring for the install. I guess my dad has done enough toilet replacement that he has a favorite wax ring brand. What?! I didn't ask. I just said thank you when he came with a wax ring in hand when he came to help. The floor was super gross. That grey toilet had been there for over 20 years as it was original to this house. yuck. Plus you can see that I couldn't paint behind the toilet tank on the grey toilet. shhh … no one needs to know that, right?!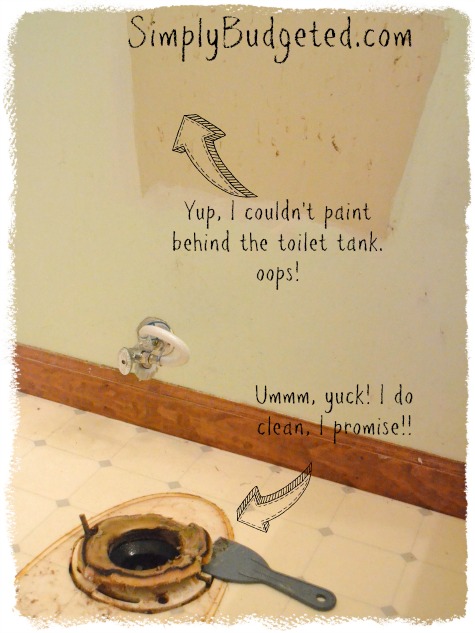 The install was simple when it comes to a DIY project to help update your bathroom! Plus the Champion Toilet from American Standard looks wonderful in our bathroom. What do you think?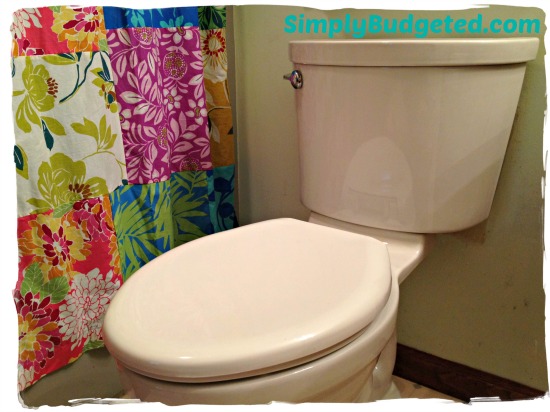 My first love is the soft close lid. Matthew just finished potty training and I can't tell you how many times I had a toilet lid slam down right next to my ear with the grey toilet. Now my ears don't ring as I walk out the bathroom!!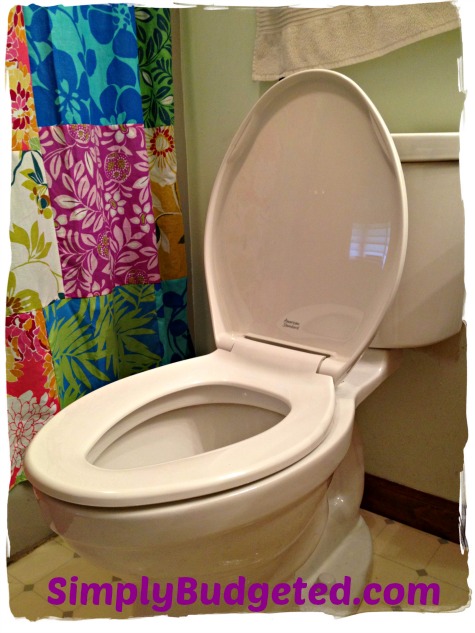 My second love is that toilet use 1.28 gallons per flush. As I said before we are on a well here. We LOVE that we are on a well but we watch closely how much water we use. Knowing that we are using less water with the new Champion Toilet from American Standard is great news for our water conservation efforts!
Plus I love that the "A PowerWash® rim cleans the bowl, and its EverClean® surface stays cleaner, longer." Since everyone decides to use our main floor Master bathroom like it is their, it is a wonderful blessing that I am not scrubbing the toilet all of the time.
Why else is the Champion Toilet from American Standard so special?
For each Champion Toilet sold in 2013, a toilet pan (the SaTo) that was developed by our talented team of engineers will be donated in an area where plumbing infrastructure does not exist and where thousands die of diarrheal related diseases per year. The SaTo (Safe Toilet) provides a barrier between the waste and open air, preventing the transmission of disease through direct and indirect contact with the waste. Collectively, these SaTo's potentially can save thousands of lives – Yes, a toilet can be that powerful! Check out  FlushforGood.com for more information on this campaign!

Do you know that here in the US … even here in Virginia where we live, that if you have a medical procedure done at the hospital, they ask if you have indoor plumbing still?! They do! They ask because there some people here even in the US that do not have plumbing. Have you thought about that?
With all of this talk about toilets … or potties as the kids call them, we ended up talking about how everyone doesn't have a potty. Sophie who is five years old pointed out we have only four potties and five people in our house so someone didn't have a potty. I smiled and then tried explaining again that some people have no potties in their house. That sure got her attention! She still isn't sure about not having a potty at all but she loved the idea of people getting potties that need one when people here in the US buy one.
Have you thought about how you are giving back this year? If you are looking to replace or buy a new toilet this year, we hope you consider the American Standard Champion line at the top of your list so that you can Buy a Champion and Be a Champion through the Flush for Good campaign with American Standard.
Leave your thoughts on this campaign or even DIY toilet replacement projects!