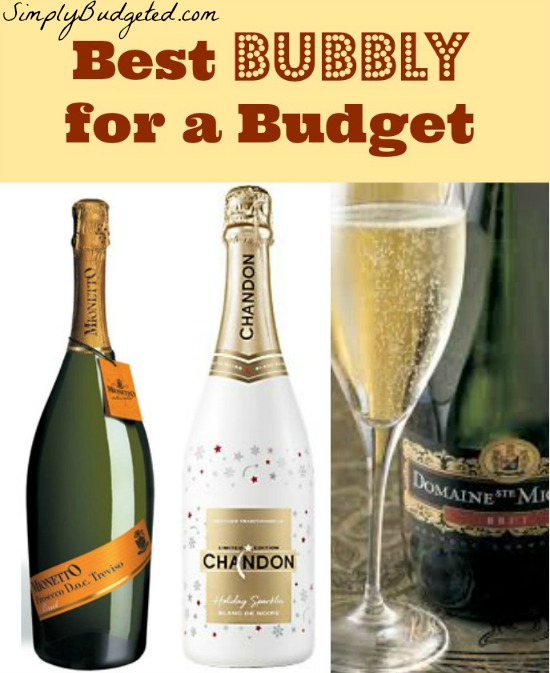 You know it's a party when someone breaks out the bubbly. Nothing says Happy New Year's or Congratulations quite like clinking champagne glasses together after a heartfelt toast. Most people usually say Champagne when talking about bubbly, but there are two kinds – Champagne and Sparkling Wine. The main difference is that Champagne is made in the Champagne region of France and adheres to certain rules, whereas sparkling wine is made everywhere else in the world. Most people use the words interchangeably though.
There are hundreds of different types of sparkling wine ranging from $5 up to a few thousand dollars and everything in between. Most of us want to spend less than $12 on a bottle and still want to impress our friends. One of the best bubblies for a budget is Korbel and can usually be found at that $5 price point. Korbel comes in Brut, which is a dry sparkling wine all the way to Spumante, which is very sweet.
One of my favorite sparkling wines is Domaine Ste. Michelle Brut, which is a combination of Chardonnay and Pinot Noir grapes. This bubbly has a lighter taste and slightly sweet, kind of resembling apples. It is the one I break out when I have a few friends over and want to impress them with a great bubbly. Best part is that Domaine Ste. Michelle is usually around $10!
Presseco grapes make an outstanding bubbly and the Presto Prosecco Brut is a crowd favorite. It tastes like a really good hard cider, light and bubbly, and perfect to start the night out with. I often serve this sparkling wine with a strawberry on the lip of the champagne flute and it is my go to bubbly for celebrations. You can pick this bottle up for under $10.
When Chandon is on sale, I pick up as many bottles as I can carry! It is often $17-25 per bottle, but a few times a year I can find coupons for it and pair it with a good sale and snag it for under $15 per bottle. Chandon comes in Brut, Rose, and they even have a Limited Edition Festive Bottle – Blanc de Noirs – which comes out at the Holidays. The Blanc de Noirs style primarily uses the Pinot Noir red grape to make a white wine which makes a solid tasting sparkling wine. You can't go wrong with any of the Chandon varieties as they are all very smooth sparkling wines.
These are just a few of the best bubbly for a budget on the market right now. For 10 people you will need 1-2 bottles for a toast if you fill the flute up a third of the way. If you are serving the champagne as part of the night's festivities and not just as a toast, then pick up 4-5 bottles for the night. It takes at least two hours to chill the bottle down and should be served cold, not room temperature.
Enjoy a glass of bubbly and celebrate all of life's little occasions. What is your favorite budget bubbly? Leave us a comment and let us know! Cheers!