We want to take a minute today to remind everyone the true reason of Christmas … It warms my heart when the kids say "Jesus' birthday". Gosh they love birthdays. Our sign is back in the yard …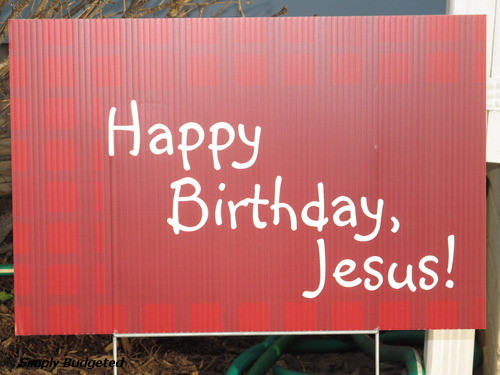 Yeah the lights never made it up but we did get the sign out. Plus we made a birthday cake for baby Jesus. Sophie picked a red velvet cake this year. I totally cheated and used a cake mix. Brian complained I didn't flatten the top and made fun of me when I said Jesus will love his cake just the way it is just he love you just the way you are. That last part is totally true. No idea what Our Dear Lord thinks of my limited cake decorating abilities. He probably wishes I would just sign up for Wilton classes already. Maybe one day. I did decide to paint the cake this year and will post more about that another day. For now, here is this year's :Happy Birthday, Jesus! Cake".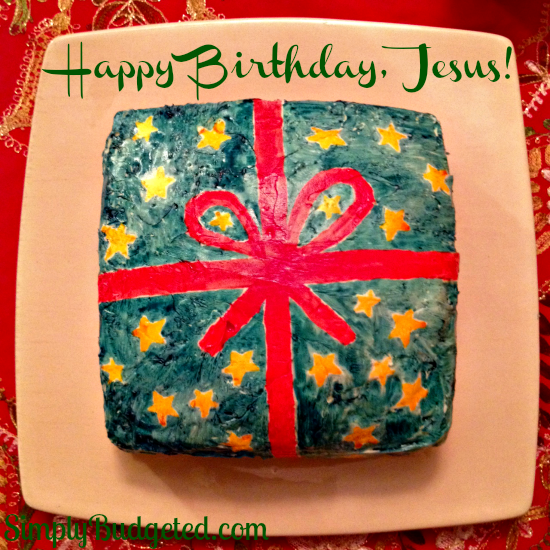 We hope you are having a blessed holiday with family and friends. We will be enjoying the morning with the kids and then go over the river and through the woods to Grandma's  (and Grandpa's) house! We really do go over a river and through some woods but it isn't around the corner … or in a sleigh. The mini-van will be toasty warm for sure and loaded with more presents on the way home than the way there.
Merry Christmas to you!