We are excited to provide a product review of the Luma Comfort AP400W Air Purifier .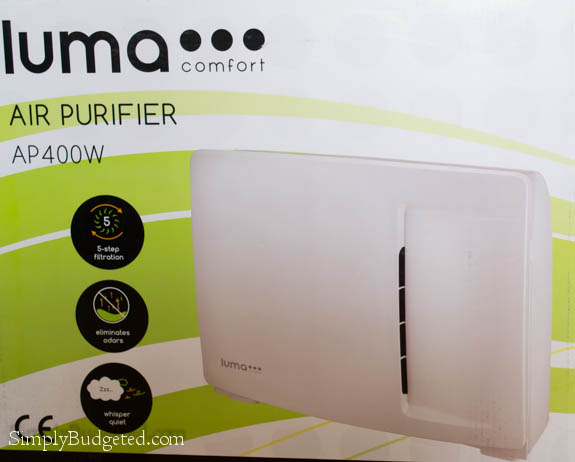 Details …
The Luma Comfort AP400W Air Purifier offers high-efficiency air filtration, a comprehensive 5-stage purification system, and intuitive controls – all within a sleekly designed machine!  With a coverage area of up to 400 square feet, this Air Purifier is ideal for bedrooms, living rooms, dens, and office spaces.  The AP400W is equipped with a carbon pre-filter, HEPA filter, VOC filter, TiO2 filter, and UV light to remove over 99% of indoor pollutants such as dust, pollen, animal dander, odors, mold, bacteria, and viruses.  Additional features include a SmartClean indicator that lets you know when each filter needs to be replaced as well as a programmable timer.
Our Thoughts …
I have had an air purifier or air cleaner in my/our bedroom for over twelve years. I suffer from year round allergies with one of my key allergies being dust. I am also willing to admit that our animals, two cats and a dog, spend a lot of time in our bedroom. They hide in here when when the kids are being crazy. They sleep in here at night … unless the cats are up fighting in the middle of the night.  Did I mention that I am allergic to all of our pets too? Yeah, animal fur/dander is one of other major allergies.
When the box came in the mail it had three key features on the top. Brian LOVES the whisper quiet mode. He hated the hum of the old air purifier so he loves that it is quiet. With the pets in our room and three kids around, the odor eliminator is a great help in any space in our house! The 5-step filtration is great for my allergy suffering. As Brian assembled the  Luma Comfort AP400W Air Purifier, I was excited to read about what the different filters did. Oh and assembling was just unwrapping the filters and putting them in the correct order.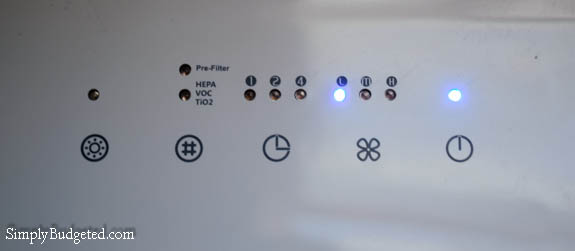 What else? The Luma Comfort AP400W Air Purifier will tell you when you need to replace filters. I have learned over my allergy years that if you aren't prompted, you will forget about those filters. So it is great to have a reminder to replace them! One less item I need to worry about in our house schedule.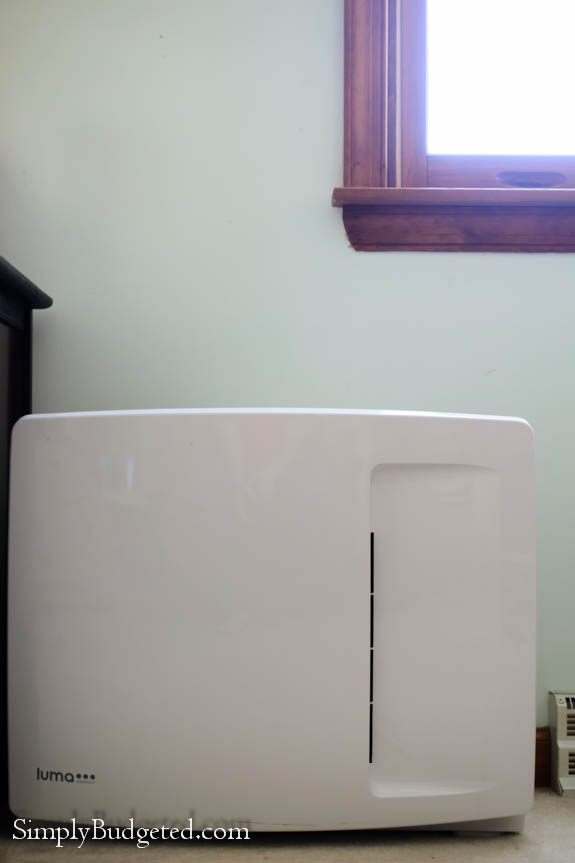 We also gained more space back in our bedroom thanks to the Luma Comfort AP400W Air Purifier. The Luma Comfort AP400W Air Purifier  is 22.2″ x 9.9″ x 18.6″. It sits closer to my side of the bed but it will work in a room up to 400 square feet!
Are you an allergy sufferer that could use an air purifier? We are thrilled that Luma Comfort is offering one of our readers the opportunity to win a Luma Comfort AP400W Air Purifier. Good Luck!!!
a Rafflecopter giveaway