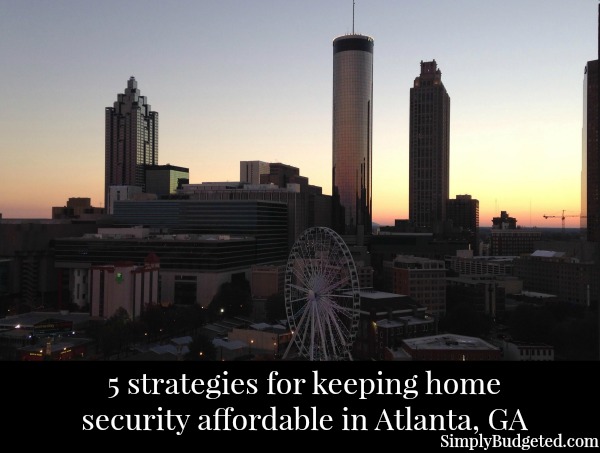 In 2010, Atlanta, GA experienced over 30,000 property crimes and nearly 7,500 burglaries. Although home security may sound expensive, it's a very real necessity in this city. It's imperative that families find a way to integrate home security and safety into the family budget, in order to exist safely in the city we love. Although it may not be affordable to subscribe to a top-of-the-line 24-7 video surveillance system, there are low cost security options out there and all of Atlanta's people are encouraged to employ these strategies to keep their family and property safe.
Motion-Activated Lighting
Burglars typically stick to the shadows because they don't want to be spotted. They're not going to simply walk through the front door in broad daylight. Instead, they will wait until night falls and then sneak around the outside of your home looking for unsecured windows and doors that are cast in shadow. If you install motion lighting, you'll be lighting up these areas whenever a creature stirs. This lighting requires only a small investment, and if you opt for solar light fixtures, you'll save even more by forgoing the need for batteries.
Glass Break Detectors
For less than $5, you can install glass break detectors on all your windows. There are two types of glass break detectors. The first activates when its contacts are separated. It is applied by placing one contact on the outside of the window, and one on the inside of the window. Should a burglar shatter the window, or remove the exterior contact, the alarm will sound. The second glass break detector activates whenever it senses vibration. If you live on a busy road, with a lot of big trucks going by, you may not want a glass break detector that senses vibration. You could be dealing with an obnoxious alarm sounding whenever a delivery truck makes it way passed your house.
Alarm Monitoring Subscription
An alarm monitoring system is the best way to deter criminals, and stop a burglary in process. Unfortunately, none of the above mentioned security options are going to alert the police. Only 24-7 alarm monitoring is going to alert the police when a criminal unlawfully enters your home. These services used to cost a fortune because they required the customer to pay for the actual system, as well as the monitoring costs. In Atlanta, things have recently gone down in price and an some alarm system don't cost a penny. The company waves the cost of the system (approximately $850) and only charges a once-monthly monitoring fee. This is a small price to pay for peace of mind.
Get a Guard Dog
Dogs can be trained to alert the household if an intruder enters the home. Canine trainers recommend seeking out a professional to teach your dog how to be a guard. Instead of attacking an intruder, your guard dog can keep himself and your family safe by learning to bark to wake a person up, and alert you to all sorts of dangers including intruders and fires. Or, you can choose a dog bred and trained for security, such as a police trained German shepherd.
Confer with Trusted Neighbors and Friends
Most burglaries happen during the summer months. Seasonal burglaries are too be expected, and that's why it's imperative that you strategize with a trusted friend or neighbor whenever you're going to be out of town. Have someone house sit for you while you're gone. If you can't secure a house sitter, ask your neighbors to periodically check on your house. Also, leave a light on while you're out, so it always looks like you're home, even if you're not.