Special thanks to The White Company for provide these five steps to better sleep!
Sleep is one of the human body's most pressing and vital needs for good health. Going without sleep or, or getting only broken, intermittent sleep leads to to decreased quality of life, inefficiency at work, and grumpiness. Here are five ways to improve the quality of your sleep.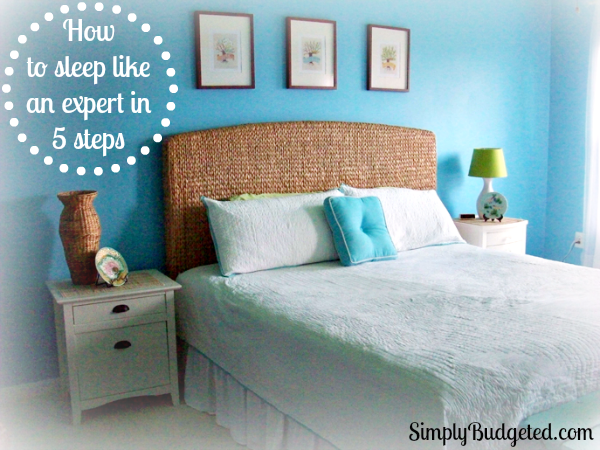 Treat your bed like a bed:

First on the list, treat your bed like a bed. That is, a bed has one primary function (and one secondary function we need not address). Reading, eating, working, or watching TV in bed teaches your body to treat the bed as a place where wakefulness is necessary.  Do those things elsewhere, and use the bed for sleep. Treating your bed as a place of comfort, relaxation, and restoration means you can dress it with comfort in mind. Maintain your mattress, keep your bedclothes clean, and invest in some quality bed linen and sheets.
Don't sabotage yourself:

Everyone knows not to drink coffee in the evenings to keep caffeine from hot-wiring your brain before bed (though it bears repeating). Likewise, while exercise is great for keeping the body healthy (which in turn helps sleep), it's not a good idea to do strenuous exercise in the hours leading up to bed. Nor is it a good idea to drink a lot of fluids right before bed (stay hydrated throughout the day so as not to wake up parched in the middle of the night!).
Prime your body for sleep:
In the hours leading up to sleep, there are activities you can engage in to to gear down, become more relaxed, and prepare to rest. A warm bath is a popular and effective means of relaxing physically and mentally. Combine with low lighting, soft music, or some light reading (no thrillers!).  Be sure to take enough time to be completely dry before bed. Moisturizing with lavender-scented lotion can likewise be very soothing before bed (and good for the skin).
Eliminate distractions:
Don't put your smartphone on the nightstand. This can't be emphasized enough.  Don't bring a tablet or laptop into the bedroom. Even the tiny blue led light from the various electronic devices, and chargers associated with modern life have proven to detrimentally affect sleep. Move them out of the bedroom, and if you can't move it, put a piece of electrical tape over those pesky lights.
Get your doctor's help:
When all else fails, seek medical help. If you snore regularly (and not just after Thanksgiving dinner or Superbowl Sunday), you may have sleep apnea, which is debilitating and can exacerbate other health concerns. A sleep study will help your Dr. determine the right course of action to alleviate these symptoms.
If you follow these steps, you can ensure better, more healthful rest, and brighter, less grumpy wakefulness.
What is your tip to get better sleep? Which step do you need to do for better sleep? Leave us a comment and let us know!