This shop has been compensated by Collective Bias, Inc. and Quaker. All opinions are mine alone.
What better way to get a smart start to the new year than by taking a fresh look at oatmeal? Traditionally, when you think of oatmeal, your mind races to breakfast, but I wanted to look at it from a different perspective. To me, Quaker Steel Cut Oats don't look like the oatmeal that grew up with. In fact, they look more like a short grain rice, so why not treat them as such.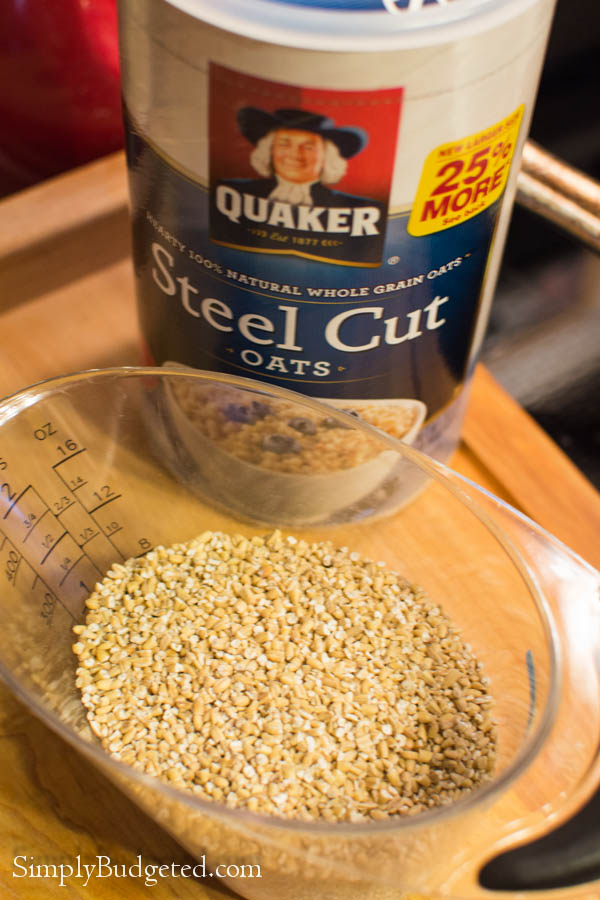 I headed to Target to find some Quaker Steel Cut Oats. They are in the breakfast aisle with all of the other great Quaker Oatmeal products. I grabbed a few boxes for the kids' breakfasts at the same time.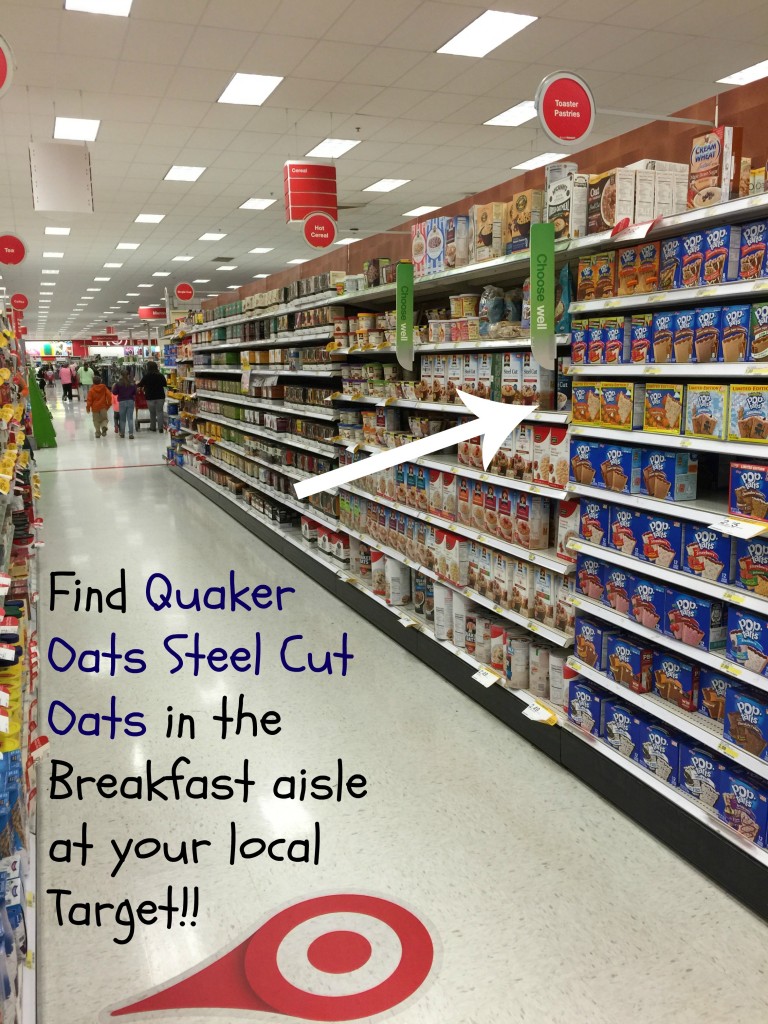 While I was in Target, I picked up some mushroom stock, mushrooms, Parmagiano Reggiano, and frozen peas. With all of this and a few home staples, I was able to create a beautiful dinner in my own home that I might expect to see on a high-priced restaurant menu.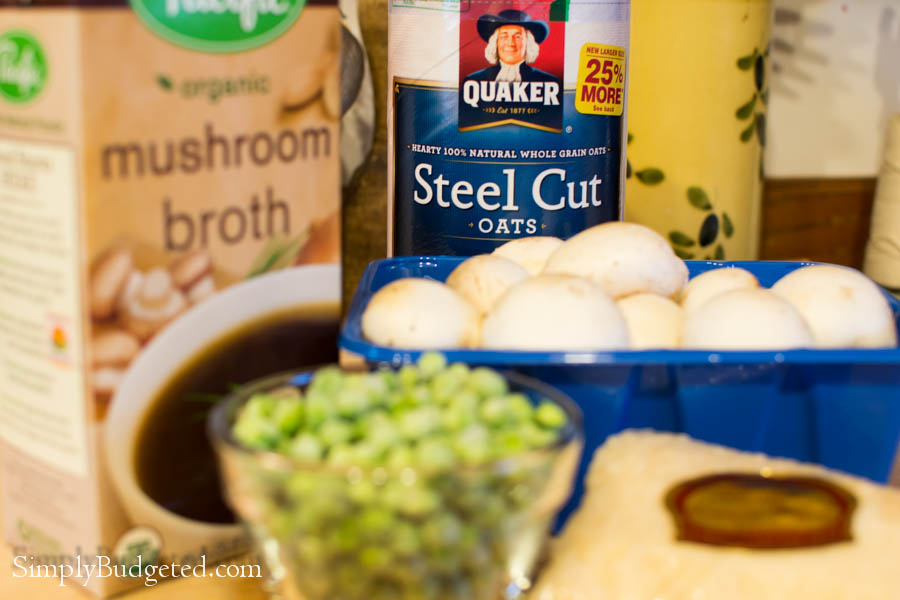 For me, the new year is about learning about new approaches to food. The key to this recipe is technique and, while the technique for making risotto isn't new to me, applying it to other grains is something that I have never tried before. Really the technique is deceptively simple. You toast the Quaker Steel Cut Oats in some olive oil for just a minute or so before adding a touch of wine. Then you slowly add the mushroom stock, stirring regularly, as the oats absorb all of that yummy liquid.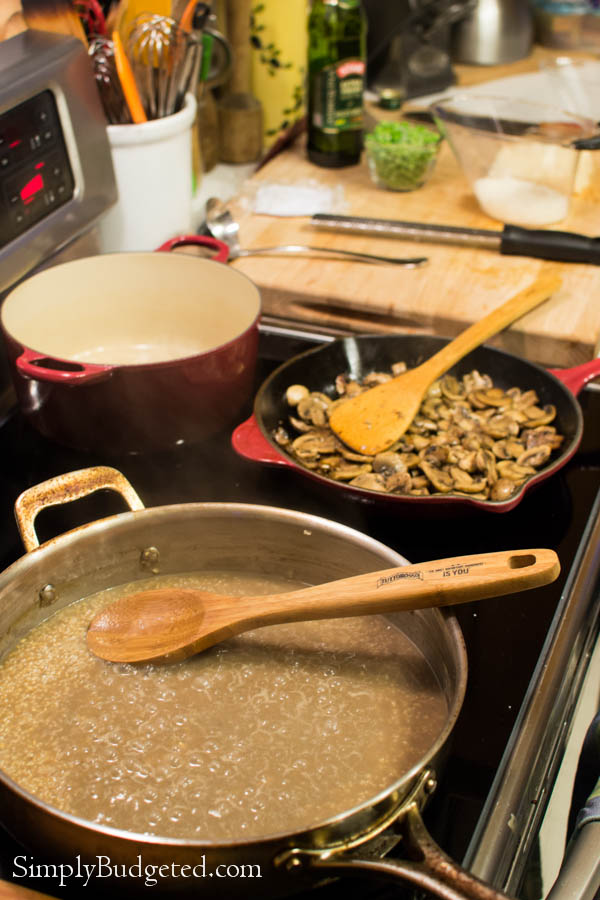 You toss in some cheese, frozen peas, and sauteed mushrooms to finish and the results are just spectacular!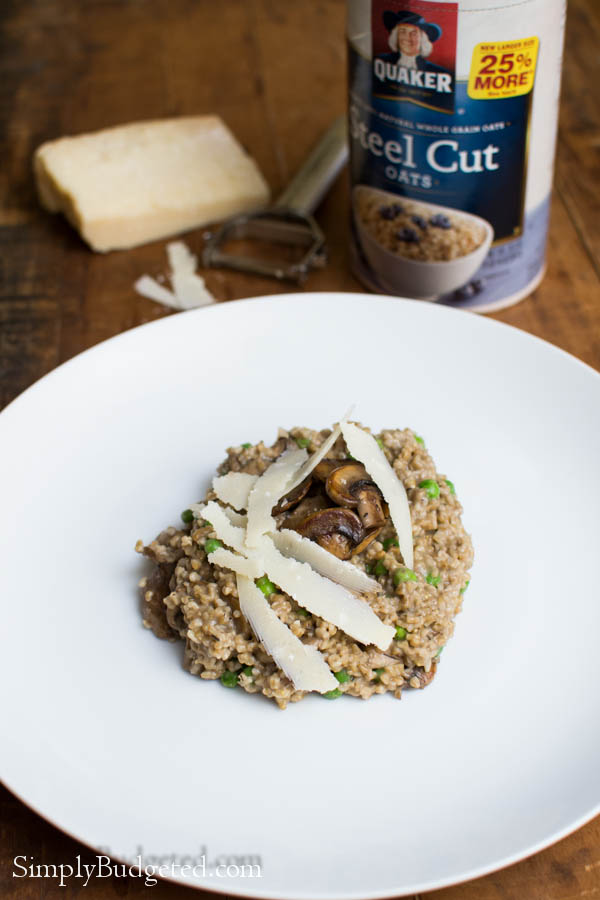 Here's the recipe!
Mushroom Oat Risotto
Ingredients
4 cups mushroom or vegetable stock
4 tbsp olive oil, divided
2 cloves garlic, minced
1 lb button mushrooms, sliced
2 tsp salt
1 tsp black pepper
1/2 tsp thyme
1 cup Quaker Steel Cut Oats
1 cup white wine
1 cup frozen peas
1/2 cup Parmigiano Reggiano, plus more for garnish
Directions
Pour the stock into a medium stockpot over low heat.
Heat 2 tsp oil in a medium skillet over medium heat. Add garlic and cook for about 1  minute. Add mushrooms, salt, pepper, and thyme. Cook, stirring occasionally, until mushrooms are golden brown.
In the meantime, heat remaining oil in a large skillet over medium heat. Add Quaker Steel Cut Oats and toast for about 1 minute. Add wine and stir, cooking for another minute or two. Add about 1 cup of stock, stirring frequently, until the oats absorb almost all of the liquid. Continue adding liquid in this manner until all of the stock is used, about 25 minutes. Oats should be creamy and slightly chewy. Season to taste with salt and pepper.
Add about half of the cooked mushrooms, the peas, and cheese. Stir to combine. Portion onto plates, topping with remaining mushroom and garnishing with additional cheese.
Enjoy!
For more ideas on how to use Quaker Steel Cut Oats and other products, make sure that you visit them on Facebook and Pinterest.
Are you taking a fresh look at oatmeal this year? What options are you excited about? Leave us a comment and share your thoughts!