You know the line in the song, A Beautiful Mess, by Jason Mraz that goes …
"And what a beautiful mess this is"?
You know those those people that tell you that you should enjoy the beautiful messes that your kids create because, soon, they won't be there to create those messes?
My new routine is to eat breakfast after the kids get on the bus. This means they have eaten breakfast and the house is finally quiet. I enjoy the quiet. The quiet refreshes me and lets my mind think. I sat down to eat breakfast yesterday and found this …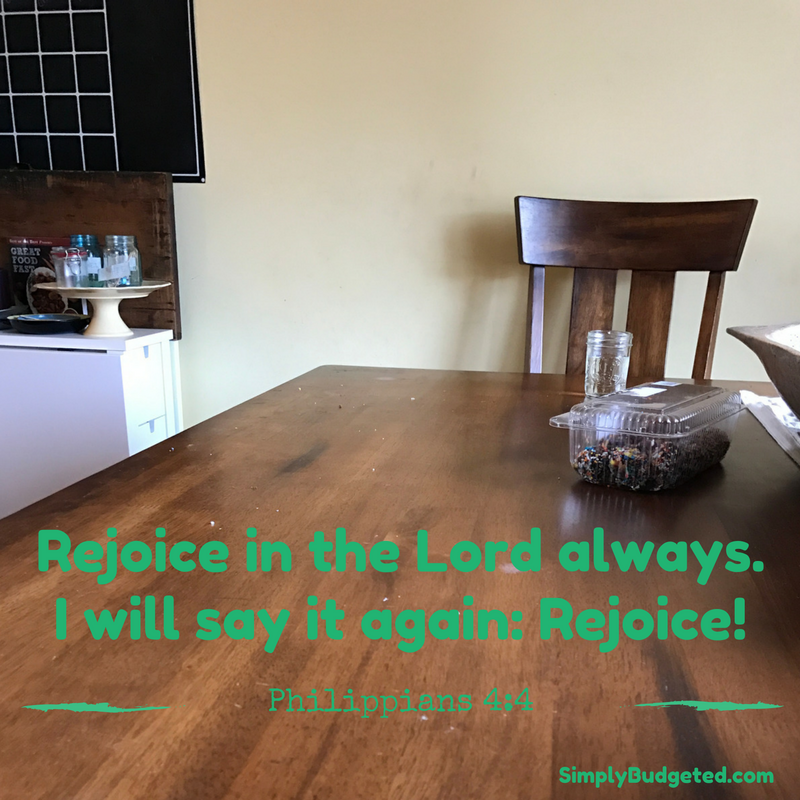 See those donut sprinkles all over the table?
See the crumbs from dinner the night before? (We all actually ate dinner together at the table the night before!)
See the glass of water left on the table?
Yeah … me too. In one ear, I was hearing myself asking (yet again) for the kids to clean the table when they got home from school. In the other ear, I heard those people telling me that this was a beautiful mess and not to worry about it. As I sat there eating my eggs, I tried to convince myself that it was a beautiful mess.
Here is the thing … I couldn't do it. The crumbs, the stuff not put away, the disarray…it all drives me nuts. To me, everything should have a place and should be neat and orderly. That is my happy place. The reality is that a husband, three kids, a dog, and two cats generally means that there are shorts on the stairs that have sat in the living room for three days after reminding Matthew it is too cold for shorts and we forgot to run the dishwasher for a full day so there are no clean spoons at our house.  Go ahead and laugh … I bet you are out of forks if I am out of spoons!
So as my eggs got cold while my mind pondered these donut crumbs on my dining room table, I decided that I didn't have to accept that it was a beautiful mess. I can accept, however, that this is my life mess for now and know that this too shall pass. One day my dining room table will get dusty instead of dirty. That too won't be beautiful, but that is part of it. If I was to skip the donut crumbles, I wouldn't have the laughs, giggles, and siblings arguing at the table that create our morning craziness. It's a mess, and it's not always beautiful, but I wouldn't trade it for anything. This is our life and we will continue to live it … crumbs and all.
A verse from yesterday's sermon at church is one that I keep going back to so I will close with that …
Rejoice in the Lord always. I will say it again: Rejoice! Philippians 4:4 (NIV)