We have just returned home from our week-long vacation and with all of the laundry, yard-care, gardening, shopping, etc. that we have to do today, I most certainly will not feel like making a big production out of dinner tonight.  So here is a simple (and cheap) way to keep up with those meatless Monday goals.  We make a quick veggie stir-fry using frozen veggies from our local big-box club.  The veggies go in frozen, you add a little sauce, and then you serve over rice with cashews and sesame seeds.  The longest cooking time is for the rice (about 20 minutes for white rice, nearly an hour for brown).  We usually use white rice because it is cheaper and quicker, but we really need to start using brown rice more.
Tip:  Cook a big batch of rice over the weekend and warm it in the microwave to speed this up.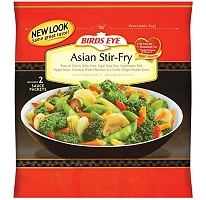 Veggie Stir-Fry
Ingredients
2 T sesame or vegetable oil
2 lbs. frozen mixed "stir-fry" veggies
1/4 C low-sodium soy sauce
2 T hoisin sauce
1 T lemon juice
zest of one lemon
2 t pepper
1 t salt
2 C cooked rice
1/4 C cashews (optional)
2 T toasted sesame seeds (optional)
Directions
Cook frozen veggies in oil over medium-high heat, stirring frequently until nearly cooked through.  Add next six ingredients to form sauce for veggies.  Serve immediately over rice.  Top with cashews and sesame seeds.
I will get a picture of this up later.  I hope you enjoy!  Send us your pictures and we'll make sure to get them up here.