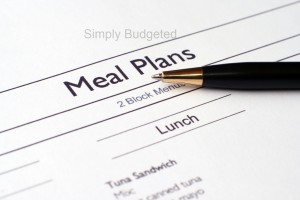 Here is the background to the monthly meal plan …
Last year, we did weekly meal plans. Well we did weekly meal plans most of the time. I say most of the time because some weeks we forgot to plan. Life got busy, school work was out of control, the preschool business started, the family all got sick. You name it, life happens. When I suggested a Monthly Meal Plan late last month, I was sure my husband would declare me nuts for good. BUT … he was on board.  Part of my accountable in doing this is posting our Monthly Meal Plan each month.
We decided to do daily themes this month so here are the themes for August!
Sunday = Sunday Dinner; you know the good ole dinners mom used to make!
Monday = Meatless Monday; have you been following this series? Check it out here!
Tuesday = Taco Tuesday; who can say no to a taco?
Wednsday = Wordly Wednesday; travel the world while sitting at your dining room table!
Thursday = Leftovers; we all have them so you should use them and not waste them!
Friday = Cooking with Dad; this series will provide dads (or anyone like this mom here) with simple recipes to take over the kitchen for a night!!
Saturday = Simple Saturday; this is our errand/activity so we try to keep it simple and are passing that along!
 August 2011 Monthly Meal Plan
2   Fish Tacos
3   Court Bouillon
4   Leftovers
5   Cheeseburger Mac & Cheese Turkey Patty Melt
6   Subs
7   Chicken and Waffles
8   Mushroom Burgers
9   Beef Tacos
10 Chicken Mushroom Alfredo
11 Leftovers
12 Grilled Chicken Sandwiches
13 Date Night (YAY!!!)
14 Flank Steak
15 Veggie Lasagna
16 Taco Bowl
17 Schnitzel and Spoetzle
18 Leftovers
19 Panini
20 Family Birthday Party for Grace
21 Chicken
22 Bake Ziti
23 Chicken Taco
24 Grace's Birthday Pick: Spaghetti and Meatballs
25 Leftovers
26 Pizza
27 Hot Dogs
28 Smoked Pork Butt
29 Quinoa + Temeh + Beans
30 Pork Tacos
31 Pork Sheppard's Pie
A few notes …
We just planned dinners again. This seems to be working so we are going with this for now.
Grace turns 5 on August 24th so those are the birthday references! 😉
Did you catch our themes for each day? What do you think??
As Brian posts any of these recipes, I will come back and link to them (as I remember and have time!) If you want a recipe for sure, leave a comment so I can pester him!;)
If you are looking for answers on monthly meal planning, ask the questions you have! I don't know that I have the answer for you but I will look for them!
Just send me an email at simplybudgeted at gmail dot com.
Have you tried monthly meal planning? How did it go? Any tips or suggestions?