This week is one of our favorite fall meals.  Gnocchi are soft, pillowy dumplings that can be made out of a variety of ingredients, including ricotta or potato.  Ask 50 Italian grandmothers and you'll get 50 different recipes.  Our variation with roasted butternut squash uses just a few ingredients to create a lovely (and filling) seasonal dish.  They freeze well for eating later in the week and can be paired with any number of simple sauces, including our Fresh Tomato and Basil Sauce.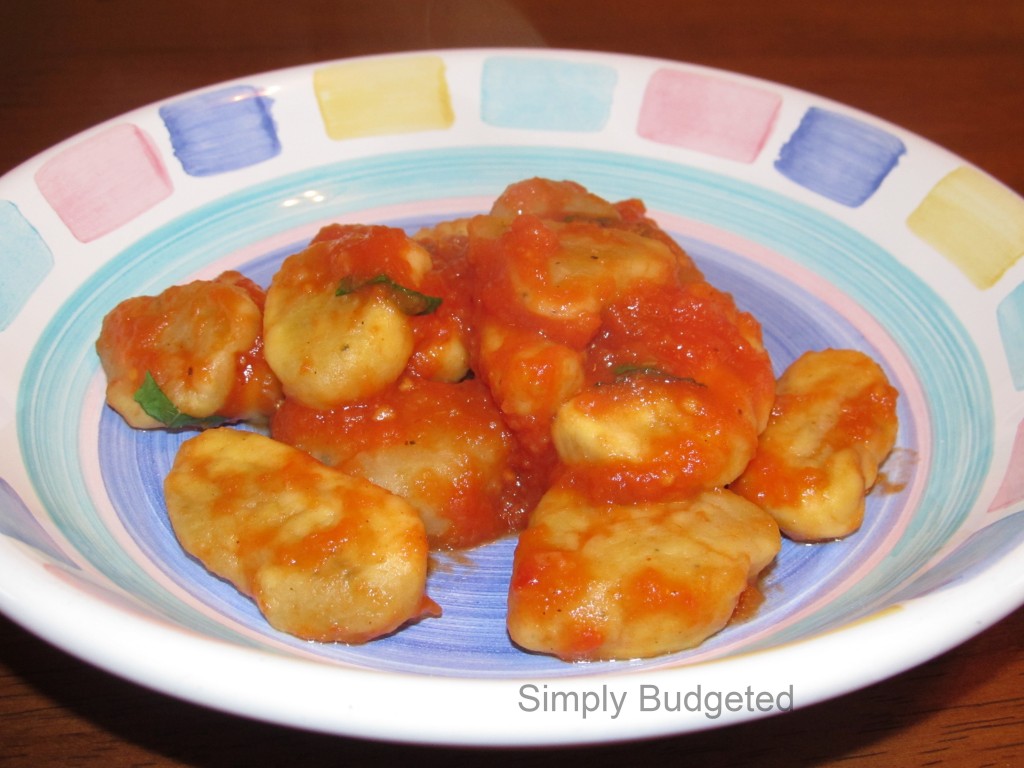 Butternut Squash Gnocchi
This recipe is more about the method than the ingredients.  Have pumpkin hanging around?  Use that.  Potatoes are very traditional (and very cheap).  This easy dish is definitely a crowd pleaser.  Be sure to make more than you think you'll need!
Ingredients
1 butternut squash, 2-3 pounds,  sliced in half, seeds and fibers removed
olive oil
salt & pepper
2 1/2 cups flour, plus flour for rolling
Directions
Preheat oven to 425.  Brush oil over halves of squash and season with salt and pepper.  Place skin side down on a baking sheet and roast for 45 minutes to an hour or until tender.  Allow to cool before scooping squash out of the shell and into a large bowl.  Mash well and allow to cool.
While squash is still warm, add flour and mix well until you have a smooth, soft dough.  Cover with a towel and let rest for 30 minutes.
Divide the dough into 4 equal portions and, on a lightly floured surface, roll each into a long rope about as thick as your thumb, adding more flour as necessary to hold the rope together.  Cut into pieces about the thickness of your thumb and press onto a lightly floured fork.
Cook gnocchi in well salted boiling water just until it floats to the top of the water, 1-2 minutes.
Serve with your favorite tomato sauce or our Fresh Tomato and Basil Sauce.
We hope to get a few comments from those of you who try this out.  Until next week…Enjoy!