Cooking Light The Gluten-Free Cookbook: Simple Food Solutions for Everyday Meals
Details …
Cooking Light introduces The Gluten-Free Cookbook-the search for simple, healthy and delicious gluten-free meals is over. Cooking Light developed more than 180 everyday recipes that will work for the reader searching for a wide variety of satisfying and flavorful gluten-free dishes. Designed in a full-color, easy-to-read format, Cooking Light The Gluten-Free Cookbook is the defi nitive guide to cooking gluten-free.
Questions from individuals who live gluten-free either out of necessity or by choice are answered all in one place. Within the pages of this book, readers will find the best kitchen tips and techniques and helpful information about ingredients that are the basis of glutenfree cooking, including which grains, flours, and convenience products to use. This book offers simple advice on how to avoid glutencontaining products-natural and hidden sources-and teaches what to look for on the nutrition label. Enjoy food previously sacrificed, such as pizza, pastas, meatloaf, sandwiches, breads, and even desserts! On every page, readers will find deliciously transformed, gluten-free versions of their favorite dishes-from quick breads to cakes and oven-fried chicken to spaghetti and meatballs, and more.
Our Thoughts …
We love to try difference cookbooks. We aren't Gluten-Free at our house but we have read about this diet change that many people are living with right now. We also have several friends who are now on gluten-free diets so if we cook for them, we know that this cookbook will be our first resource. We have a few recipes we want to try in this book including …
Cinnamon-Raisin Muffins with Streusel Topping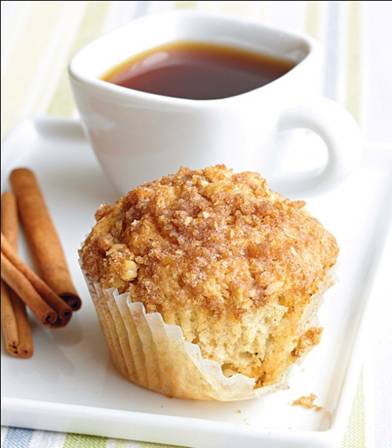 Streusel:
1⁄4 cup chopped walnuts
1⁄4 cup packed light brown sugar
2 tablespoons brown rice flour (such as Bob's Red Mill)
1⁄2 teaspoon ground cinnamon
11⁄2 tablespoons canola oil or butter
Muffins:
Cooking spray
3.3 ounces brown rice flour (about
3⁄4 cup; such as Bob's Red Mill)
4.1 ounces potato starch (about 3⁄4 cup)
2.1 ounces tapioca flour (about 1⁄2 cup)
3⁄4 cup granulated sugar
1 tablespoon baking powder
11⁄2 teaspoons xanthan gum
1⁄2 teaspoon ground cinnamon
1⁄2 teaspoon salt
3⁄4 cup raisins
1⁄4 cup chopped toasted walnuts
1⁄3 cup canola oil
1 teaspoon vanilla extract
2 large eggs
1 cup plain soy milk
1. Preheat oven to 400°.
2. To prepare streusel, combine first 5 ingredients in a small bowl with a fork until mixture resembles small peas.
3. To prepare muffins, place 18 paper muffin cup liners in muffin cups. Coat liners with cooking spray; set aside.
4. Weigh or lightly spoon brown rice flour, potato starch, and tapioca flour into dry measuring cups; level with a knife. Combine brown rice flour, potato starch, tapioca flour, granulated sugar, and next 4 ingredients in a large bowl, stirring with a whisk. Stir in raisins and walnuts; make a well in center of mixture. Combine oil, vanilla, and eggs in a medium bowl, stirring with a whisk. Stir in soy milk; add to rice flour mixture, stirring just until moist. Spoon batter evenly into prepared muffin cups. Sprinkle batter evenly with streusel topping.
5. Bake at 400° for 20 minutes or until muffins are lightly browned and spring back when touched lightly in center. Cool in pans 5 minutes on a wire rack. Serve warm. Yield: 18 servings (serving size: 1 muffin).
CALORIES 201; FAT 8.5g (sat 0.8g, mono 3.9g, poly 3.2g); PROTEIN 2.3g; CARB 31g; FIBER 1g; CHOL 24mg; IRON 0.6mg; SODIUM 149mg; CALC 57mg
(Copied with permission from The Cooking Light Gluten-Free Cookbook .)
You can buy this on Amazon
right now for $11.47!
We are excited to offer a giveaway for a copy The Cooking Light Gluten-Free Cookbook to one of our readers!
Details:
This drawing will end Tuesday, November 1st at 11:59pm EST. The winner will have 48 hours to reply with their address. You must include your email address in the comment form so you can be contacted if you are a winner! You must complete the Mandatory Entry for the additional entries to count. This giveaway is open to US residents only !
So how do you enter?
Mandatory Entry: Who would enjoy recipes from The Cooking Light Gluten-Free Cookbook?

Additional Entries:
1)
Follow us on Facebook
HERE
. Worth
two entries
so leave two comments here! (Psst … we love comments on Facebook so maybe you can leave us one!)
3) Tweet about this giveaway with this tweet:
RT #Win  The Cooking Light Gluten-Free Cookbook at @simplybudgeted http://bit.ly/mWUBSC ends 11/1 #giveaway #cookbook #recipe #glutenfree
Leave a comment with the URL for your tweet. (One Tweet per day until end of giveaway!!)
4) Follow us publicly through the Google Friends Connect in the footer. Leave a comment with your name that you subscribe with.
5) Subscribe to the daily email here at Simply Budgeted. It is at the top of the sidebar!;) Please leave a comment. (worth 5 entries!)

NOTE: We were provided with a review cookbook to provide this review. All thoughts and opinions expressed are our own. All prizes are mailed by the PR company or actual company.