We are excited to partner with SheSpeaks on featuring the Macy's Recipe Share Contest!
SheSpeaks has teamed up with Macy's and their Recipe Share Contest! Share your favorite holiday recipe for a chance to win $1000 and have it featured on Food Republic.
You can submit and vote until November 30th when the contest ends to show off your best holiday recipes so get cooking!
1. Head to www.facebook.com/macys
2. Click the Recipe Share tab
3. Submit your recipe
4. Share the contest via Facebook and Twitter
About Macy's:
Established in 1858, Macy's is the Great American Department Store – an iconic retail brand with over 800 stores across the country and online at macys.com. Macy's offers an incredible selection and the best brands, tailored to each and every customer, while providing an experience that transcends ordinary shopping.
A big part of Macy's unique heritage includes our special events?the Macy's Thanksgiving Day Parade, Fourth of July Fireworks, flower shows, fashion extravaganzas, celebrity appearances and holiday traditions that range from the arrival of Santa Claus to tree lightings and festive window displays. But beyond our signature events, Macy's delivers magical moments every day through our shopping environment, service and merchandise – a great deal of which is sold exclusively through our stores. It's all part of the excitement we've been creating for 151 years, and it's all part of the magic of Macy's!
We decided to share a new favorite, Southwest Creamed Corn! The best part of this recipe is how easy it is!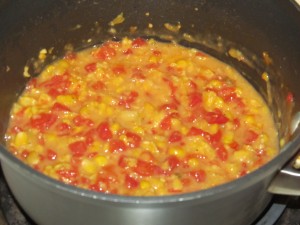 INGREDIENTS
1 14 3/4-oz can creamed corn
1 10-oz can mild tomatoes and chiles, drained
2 Tbsp Parmesan cheese
salt and pepper to taste
PREPARATION
Combine all ingredients into a small non-stick pot over medium-low heat. Stir occasionally. Heat until warmed through. Enjoy!
MEMORIES
Beth loves creamed corn and I've never been a big fan. So I did what I do best. I turned it upside down and made it better. Now we both get to enjoy a side dish with a hint of tradition and little kick to wake it up!
Sound good?
Head over to
Facebook
and click on Sides to vote for Southwest Creamed Corn! (Just like Macy's to vote!)
Disclosure: This post has been brought to you by SheSpeaks & Macys.