Thanksgiving is a pretty special time around our house.  I don't really have a large extended family and the family that I do have is spread all over.  Growing up, we didn't really do Sunday dinners, so those few times that we did get together for big meals were pretty memorable.  As I've gotten older, I have begun to really appreciate family that much more and I want to make sure that my kids get to create some special memories of their own.  One thing that I really remember from my childhood, was that first time that I ate sweet potatoes (we called them yams down in Louisiana…apparently there is a difference, but I haven't the foggiest of what that difference is).  My grandmother was cooking them and I was dead set against them…until, that is, she started topping them with brown sugar and marshmallows.  At that point, they didn't seem quite so bad….
Fast forward 20 years or so.  I've started to create my own dishes based on long lost memories.  It's not really the particular dish itself, but the experience that matters most.  It's how the dish transports you to that special place from so long ago that you hold deep within yourself.  For me, these sweet potatoes do that and so much more.  They take me back to a time when I was younger and not so worried about the schedules, timelines, and shopping lists that pervade our Thanksgiving experiences.  It was about the food and the family.  Furthermore, I see that simple joy of food in my kids when I put this special dish in front of them.
To top off the whole family experience…this year, my sister-in-law actually requested this.  Ordinarily, she is one who politely declines just about everything "different" that I offer her.  Last year, she finally broke down and tried these sweet potatoes.  She didn't really comment on them, so I never gave it a second thought.  Imagine my surprise when, last week, I find out that she actually asked if I was going to make them.  Well, with that, I knew that we had to do them up right and, of course, we had to post them for everyone else who has been unsure about sweet potatoes in the past.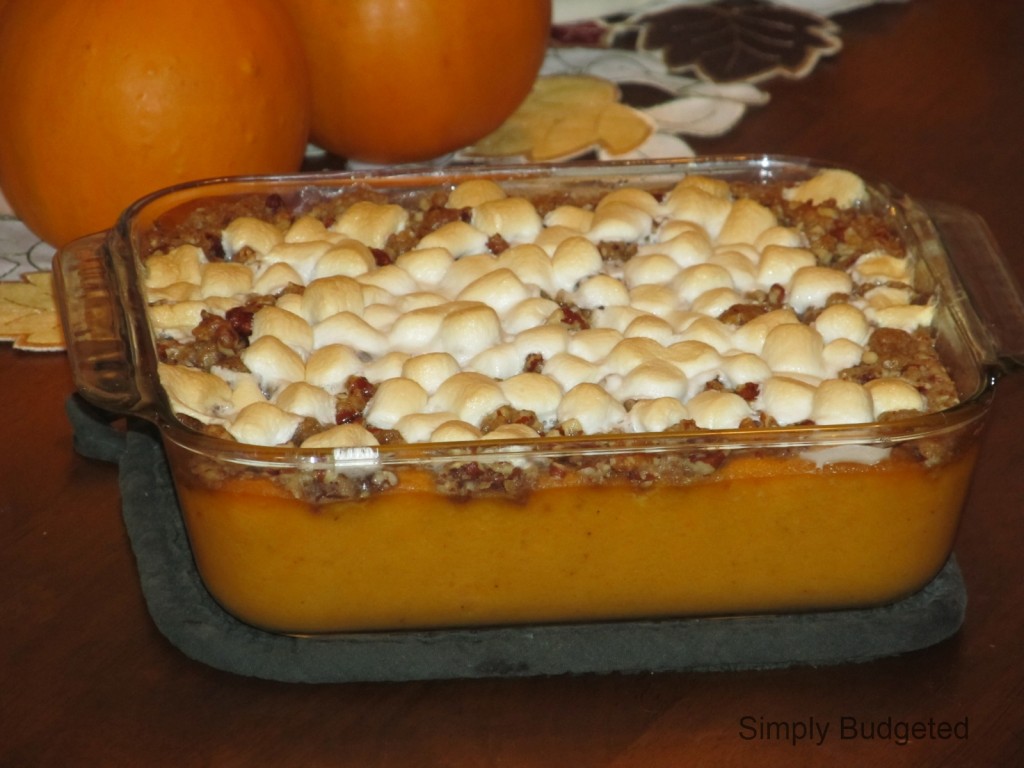 Pecan Crusted Sweet Potato Casserole
Sweet potatoes are yummy enough on their own, but a little brown sugar, some maple syrup, and some marshmallows really make these a special sweet treat to accompany the turkey and all of those delicious savory sides.  You can easily make the base a few days beforehand and just top with the topping before baking on the big day.
Ingredients
3 large sweet potatoes, peeled and cut into large chunks
1 C brown sugar
1/4 C maple syrup
1/2 C (1 stick) butter, melted
1/2 C milk
2 eggs
1/2 C brown sugar
1/3 C flour
1/3 C butter, melted
1 C chopped pecans
1 1/2 C mini marshmallows
Directions
Place chopped potatoes in cold water.  Bring to a boil and continue boiling for 10-15 minutes or until fork tender.  Strain and mash.  Add next 5 ingredients (through eggs) and mix well with an electric mixer.
Heat oven to 350.  Combine brown sugar, flour, butter, and pecans and mix until the butter is fully incorporated.  Place the mash into a small baking dish and top with the pecan mixture.  Bake at 350 for approximately 25 minutes.  Add marshmallows and bake an additional 5 minutes or until marshmallows begin to brown.  Allow to cool slightly before serving.
I hope you all enjoy this recipe and the memories that go with it.  I also hope that you are busy creating your own memories with your loved ones.  Leave us a comment with your favorite Thanksgiving memory.