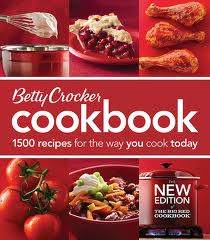 Details …
America's most trusted cookbook is better than ever!Representing its most thorough revision ever, the Betty Crocker Cookbook, 11th Edition includes hundreds of new recipes, three new chapters, and icons that showcase how we cook today—faster, healthier, and with many more flavors.
New features celebrate the book's expertise and heritage with repertoire-building recipe lessons and fresh twists on American classics. With nearly 1,100 gorgeous new photos and 1,500 recipes, as well as invaluable cooking guidance, The Big Red Cookbook is better and more comprehensive than ever before. The book features:
Exclusive content at BettyCrocker.com for Big Red buyers, including 80 videos, 400 additional recipes, and more to complement and enhance the cookbook
1,500 recipes, 50 percent new to this edition
Nearly 1,100 all-new full-color photos—more than three times the number in the previous edition—including 350 step-by-step photos
Bold, contemporary, and colorful design
Three new chapters on Breakfast and Brunch, Do It Yourself (including canning, preserving and pickling) and Entertaining (including cocktails and party treats)
New feature: Learn to Make recipes giving visual lessons on preparing essential dishes like Roast Turkey and Apple Pie, with icons directing readers to bonus videos on BettyCrocker.com
New feature: Heirloom Recipe and New Twist showcase classic recipes paired with a fresh twist, with icons directing readers to bonus videos on BettyCrocker.com
"Mini" recipes giving quick bursts of inspiration in short paragraph form
With 65 million copies sold and still going strong, the Betty Crocker Cookbook, 11th Edition is the one kitchen companion every home cook needs.
Our Thoughts …
I have one of the 1970s versions of the Betty Crocker cookbook. It was on my grandma's shelf before it was on mine. It is still one of my first references when I am cooking and baking. I was excited to see a new edition of this cookbook come out. It was hard to image it getting better that my go-to reference 1970s version but it did get better. There are so many new recipes in this book. I love the chapter layout with tabs of this book because it makes it so easy to find that dessert or appetizer you want to make. The tabs are in the old version and probably one of the reasons I love that book so much. I am thrilled they kept the tabs in the book to make it such an easy reference. They also kept the pictures. I love having a picture when I am making a recipe because then I can see if I flubbed it up or if I was almost close to making it. (I rarely claim perfection!) Over all this new edition is a much a have for a kitchen … even if you have an older version of the cookbook like I do. You will find something to love in this edition for sure!
You can find this cookbook over on Amazon right now for a great price! You can still order it and get it in time for Christmas too. This would make a perfect gift for someone who wants to start to cook in the new year, has an older edition of this book, or even just needs a great reference cookbook!
NOTE: We were provided with a review copy of this book to support this review. No other compensation was received. All thoughts and options expressed are our own.