This week's Meatless Monday recipe was taken from Farmer Dave's, a CSA based out of Massachusetts.  The recipe, African Cabbage, Carrot, Potato, and Chickpea Stew, was the first meal of 2012 for us.  As a southerner, it is imperative that I eat my greens and black-eyed peas on New Year's.  Well, I "should" eat black-eyed peas.  Really any legumes (beans, peas, lentils, etc) will do.  They symbolize luck for the new year (the greens symbolize wealth).  This was also the first meal of our new diet plan for the start of the new year.  We are spending six weeks on a vegan diet and another six on a vegetarian diet.  We hope that this will help to kick start our weight loss goals for the year and reboot our perspectives on what our plates should look like when we sit down to eat.  We also hope to get some great menu ideas for Meatless Mondays for the rest of the year.
The meal itself was delicious and filling.  The starchiness of the potatoes (we sliced up fingerling potatoes to resemble coins) and the sweetness of the carrots played well with the cabbage and the meatiness of the chickpeas.  Most importantly, even though the four main ingredients came together as one dish, they did not overshadow one another.  The seasonings elevated the simple dish while maintaining the natural flavors of the stars.  All in all, this recipe is cheap, easy to put together, and delicious.  Give it a try.  It'll be well worth the effort.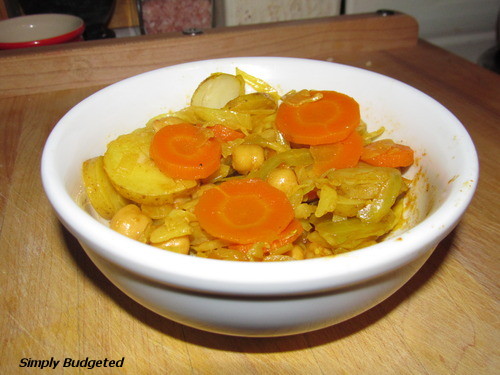 We hope you enjoy this Meatless Monday.  Leave us a comment if you enjoy it or let us know what you are having tonight.  If you are interested in Meatless Monday and want to get some more information about joining in the movement at your home, check out this site or send us an email.