Friday Favorites is another almost weekly feature here at Simply Budgeted. The whole point of this feature is to share some of our favorite finds. Anything is game. Food. Cleaning supplies. Kid stuff. Garden favorites. Recipes. Anything that I really like and want to randomly post about.
Reminder/Disclaimer/Whatever: Everything in Friday Favorites is something that we use and bought on our own.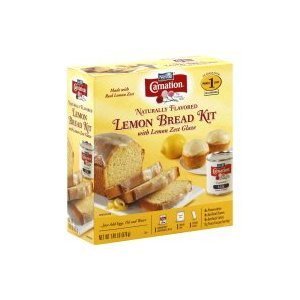 Details …
Kit Includes: 1 Carnation Evaporated Milk; 1 bread mix; 1 lemon glaze. Naturally flavored. With lemon zest glaze. Made with real lemon zest. For bread or muffins. Makes 1 loaf or 12 muffins. Just add eggs, oil and water. No preservatives. No artificial flavors. No artificial colors. 0 g trans fat per serving. It's good to know. Did you know Carnation Evaporated Milk is fresh, nutritious milk from which half the water has been removed. This special concentration of milk helps baked goods retain their tenderness and moistness.
Our Thoughts …
Ta-da!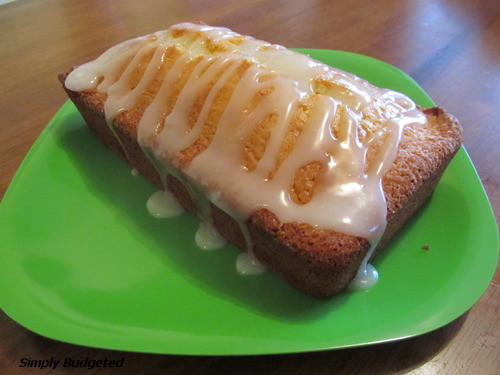 I bought this kit on a whim one weeknight when I ran into Walmart for cheese on my way home from work for dinner that night. This mix was less than $3 and I was at home the next day with Sophie and Matthew. I knew Sophie would love baking with me and this would make that task easy.
Sophie (4 years old) did love making this. You only need a spoon to stir it so she was all over that. The one note I have is that takes almost an hour to bake so don't think it is exactly like a cake mix and will be out of the oven in half an hour!  So just plan ahead when you make this treat. It is super yummy and more like a dessert than a sweet bread so maybe you should save it for after dinner like we did.
I hope you can find this at a grocery store near you soon to try.
Have you tried this mix before? Leave me a comment and let me know. Do you have another mix that we should? I would love to hear about it as I love to cheat in the kitchen!