We recently received a copy of the 4 Ingredient Gluten-Free Cookbook and are excited to share a couple of the recipes with you!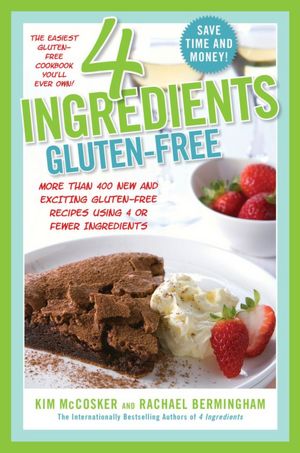 Seeing that I had the review task for this cookbook, I went to the dessert section. The first recipe I tried out was the Peanut Butter Cookie recipe.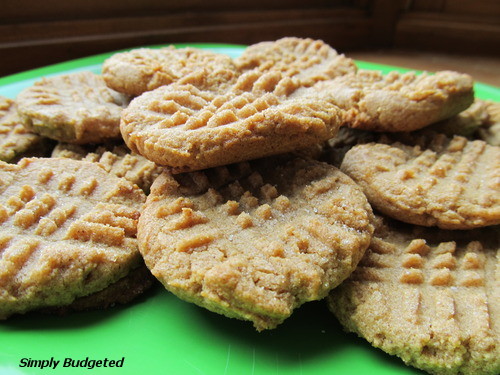 Peanut Butter Cookies
1 cup crunchy peanut butter
1 cup packed brown sugar
1 teaspoon ground cinnamon
1 egg
Preheat the over to 350 degrees F. Line 2 baking sheets with parchment paper. In a bowl, mix all ingredients. Using a tablespoon amounts, roll into small balls and place on the baking sheets. Flatten slightly with a fork, crisscross style. Bake for 10 minutes, or until a thin crust forms on the cookie. NOTE: These will harden as they cool.
My Thoughts: I love peanut butter cookies. These peanut butter cookies were really simple to make with what I had on hand. I admit I didn't use crunchy peanut butter but went for the Skippy Natural Peanut Butter I seriously love. These are worth making again for sure!
Next up on the test list is the Flourless Chocolate Cake recipe!
Flourless Chocolate Cake
4 eggs, separated
1 cup superfine sugar
1 3/4 sticks (7 ounces) butter
8 ounces dark chocolate
Put a rack in the lowest position and preheat the oven to 350 degrees F. Line a 9-inch round cake pan with parchment paper. With an electric mixer, beat the egg yolks with 1/2 cup of the sugar. In a separate bowl, beat the egg whites until fluffy, then add the remaining 1/2 cup sugar. In a separate bowl, beat the egg whites until fluffy, then add the remaining 1/2 cup sugar, gradually beating until stiff peaks form. In a bowl set over a pan of hot water, melt the butter and chocolate, stirring regularly. Fold the chocolate mixture into the egg yolks. Fold in the egg whites. Scrape the batter into the cake pan and bake for 40 minutes. Serve warm or chilled.
I can't wait to try this recipe since I have some baking time back in my life for a few weeks!
You can find this cookbook over on Amazon for a great price!
We are excited to offer one our readers a copy of this cookbook in a giveaway.
a Rafflecopter giveaway