Friday Favorites is another almost weekly feature here at Simply Budgeted. The whole point of this feature is to share some of our favorite finds. Anything is game. Food. Cleaning supplies. Kid stuff. Garden favorites. Recipes. Anything that I really like and want to randomly post about.
Reminder/Disclaimer/Whatever: Everything in Friday Favorites is something that we use and bought on our own.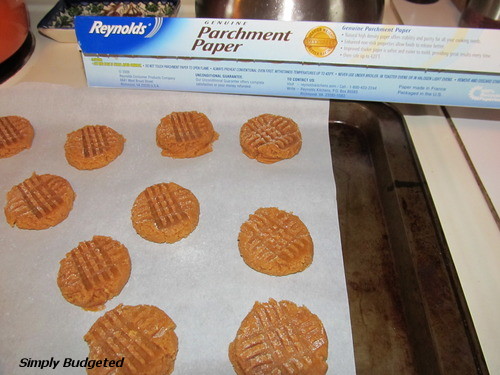 Description …
High quality, nonstick paper that is ovenproof up to 420 degrees
Excellent for baking cookies, cakes, breads, pizza, fish or chicken en papillote, and making candy or frozen desserts
Works great when used to cover foods in the microwave oven
Professional bakers and cooks have been using it for years
My Thoughts …
I have Brian to thank for introducing me to parchment paper. It wasn't something that my mom ever had at her house … OK, I still don't think she has it at her house. Brian loves the brown unbleached parchment paper. I am always out for a bargain though and found Reynolds Parchment Paper thanks to  coupons  awhile back. I like to save the coupons for the Super Double Sale at Harris Teeter and really save on this new to me kitchen staple! It doesn't go bad so I can two boxes and toss in it the drawer!
Why do I really love parchment paper? Well besides it makes your cookies cook all nice and even … it saves on clean up. I always have dish duty here and any trick I can find to save me time in that area, I love. If you want to see how those cookies turned out, see the Peanut Butter Cookie Recipe from 4 Ingredients Gluten-Free post!
Do you use parchment paper? What is your favorite use for parchment paper? Leave me a comment and let me know!