Whipped Topping and trifles are like a peanut butter and jelly to me. They go together perfectly.
I was planning a dessert for Brian's Mom's belated birthday celebration. I was thinking about a cake and then I decided I wanted to make a trifle. I asked Brian what his mom's favorite dessert was and he had no idea. (Reminder to myself: make sure all of my kids know that anything with chocolate is good with their mother!) So I decided to make the decision on the dessert. For some reason, I decided on chocolate mint dessert. I started looking online for a chocolate min trifle and couldn't find one. So I started scheming with the disclaimer that I don't normally make recipes but I knew I could do this. I had grand ideas of mint syrup and chopped up mints … I had about a million ideas in my head. Then I stopped and decided to keep it simple. So here is a beyond simple whipped topping mint chocolate trifle!
Keeping with the simple theme, the ingredients are simple too and very few. So just buy two tubs of whipped topping, a Devil's Food cake mix, Mint Oreos, mint extract, and fresh mint (optional garnish). Here are the ingredients …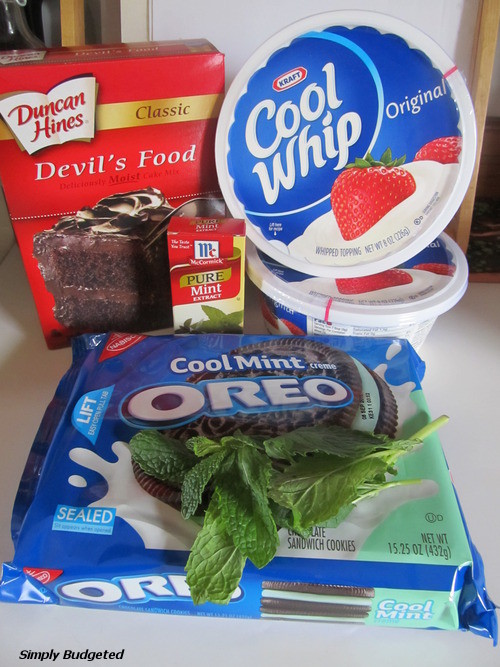 Ta-da!!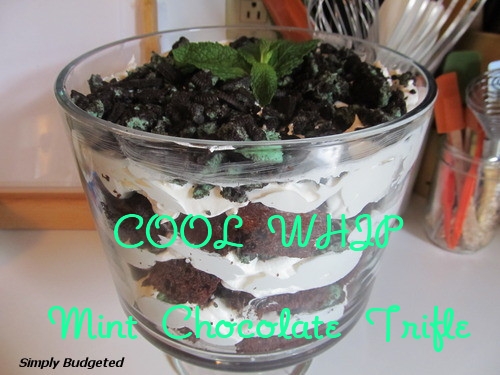 Ingredients
1 Devil's Food Cake mix prepared as directed on the box (eggs, oil, water)
2 tubs of whipped topping
1 package of mint Oreos
1 tsp mint extract
1 sprig of fresh mint
Directions
1. Prepare the Devil's Food cake mix as directed on the box. Let the cake cool completely. Cut the cake into bite sized pieces.
2. Put all of the mint Oreos in a bag and bang the heck out of them so they are little crumbles. (A few big pieces are OK and might need to be sampled!)
3. Add both tubs of whipped topping and 1 tsp mint extract in a mixing bowl and stir the extract into the whipped topping.
4. Layer the cake in the bottom of a trifle dish (or large bowl) until the bottom of the bowl is covered.
5. Use a spatula to cover the cake layer with the mint whipped topping.
6. Sprinkle the crushed mint Oreos over the top of the whipped topping layer.
7. Repeat steps 4-6 another 2-3 times depending on the size of your bowl.
8. Place the mint sprig in the top as a garnish.
NOTE: Keep the dessert chilled until it is ready to serve.
Maybe simple really is best! This dessert was loved by all at the birthday celebration and will be added to my trifle recipe collection. Do you love trifles? Would you enjoy a mint chocolate trifle for your birthday? Leave us a comment and let us know!