So we're a day late getting Meatless Monday up this week, but this recipe will definitely not leave you a dollar short.  When you combine rice, broccoli, mushrooms, and cheese, you know that you've got something healthy, delicious, and easy on your pocketbook.  You get plenty of protein from the broccoli, cheese, and rice, meatiness from the mushrooms, plenty of carbs, and lots of vitamins.  As a bonus, this would work incredibly well as a side dish for just about any meat you can think of.  A great way to use leftovers!  The best I can say about this dish is to quote my four-year-old and five-year-old girls who both looked up to thank me for dinner, saying, "Daddy, this dinner is yummy!"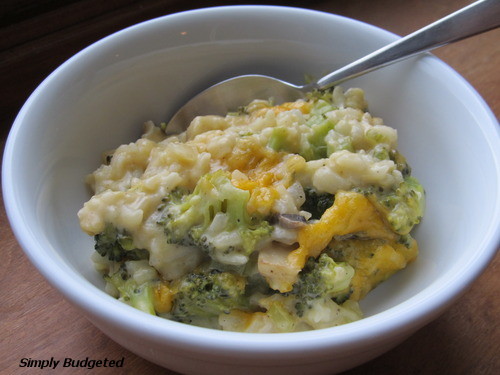 Broccoli Rice Casserole
No cream of mushroom soup here.  Just fresh, unprocessed ingredients coming together to form a tasty dish!  Mmmmmm!
To cook the rice, pour 1 cup of rice, 2 cups of water, and a pinch of salt into a saucepan.  Bring it to a boil.  Cover and reduce heat to low.  Wait 20 minutes.  Perfect rice every time!
Ingredients
4 Cups fresh broccoli stems and florets, rinsed and chopped small
2 Tbsp lemon juice
2 Tbsp olive oil
1/2 Cup diced onions
1 stalk celery, diced
1 clove garlic, minced
1 Cup chopped mushrooms
1 Tbsp flour
1 1/4 Cup milk
salt and pepper to taste
2 Cups shredded Cheddar cheese, divided
1 1/2 Cups cooked rice
Directions
Preheat oven to 350.
Steam broccoli until just tender (about 3 minutes on high in the microwave) and top with lemon juice.
Add oil to a skillet over medium-high heat.  Add onions, celery, garlic, mushrooms, and a pinch of salt and pepper.  Sautee 5-6 minutes until veggies are tender.  Add flour and cook another minute.   Stir in the milk and continue stirring until just beginning to thicken (it will still feel pretty loose…good!).  Add in 1 1/2 cups of cheese until just melted.  Taste and add more salt and pepper as needed.
Mix broccoli, rice, and cheese sauce in a casserole dish.  Top with remaining 1/2 cup of cheese.  Bake until bubbly, about 30 minutes.  Allow to cool for 5-10 minutes so that sauce can thicken.  Enjoy!
What did you have for Meatless Monday?  Have a Meatless Monday experience, recipe, or request?  Leave us a comment and let us know what you're up to!
Meatless Monday, a national nonprofit public health initiative, is all about incorporating more vegetables and less meat into our diet.  It's about moderation, just one day a week, cutting down on meats high in saturated fat and increasing protein-rich plant-based foods — good for personal health and good for the planet.