Our May 2012 Daring Cooks' hostess was Fabi of fabsfood. Fabi challenged us to make Boeuf Bourguignon, a classic French stew originating from the Burgundy region of France.
This is the first time that I've ever made Boeuf Bourguignon.  I've heard of it and I've made a number of stews and other dishes similar to it, but this is my first time for this particular dish.  It just so happens that I love to make comfort foods, so I was very excited to have an excuse for making another one.  One change that I made to the dish was that I did not get a chunk of streaky bacon nor did I use the bacon rind.  Instead, I used 4 slices of pre-packaged bacon sliced thinly.  I also decided not to strain the sauce.  It was plenty thick for my taste as it was.  We served it over polenta, so the sauce being a little thinner was actually very nice.  The picture here is the final product of what I cooked, but the recipe is Fabi's.  She did a great job with this and deserves all of the credit.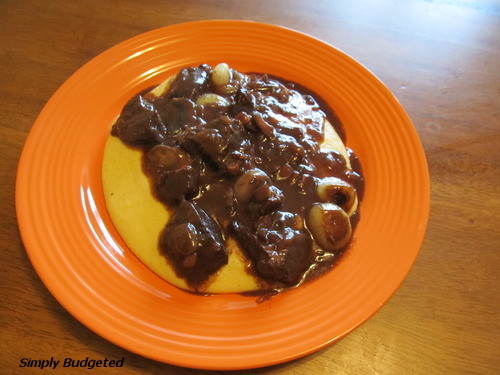 BOEUF BOURGUIGNON
Ingredients for 6 people:
Ingredients
1 x 6 oz (200 gm) chunk of streaky bacon
Olive oil
3 pounds (1⅓ kg) stewing beef cut into 2 inches (5 cm) cubes
1 teaspoon (5 ml) (6 gm) salt
½ teaspoon (5 ml) (2 gm) pepper
3 tablespoons (45 ml) (1 oz/30 gm) flour
3 cups (1½ pint/720 ml) of young red wine. Suggestions: Bourgogne, of course, but also Bordeaux, Cabernet Franc, Cabernet Sauvignon, Chianti, Rioja etc., depending on your country and your taste. Being Spanish, my choice this time was a good Rioja. It really has to be a good one but it hasn't necessarily to be a very expensive one, you know, il ne faut pas exagérer

1 carrot, sliced (I prefer to cut it into chunks, but that's just my taste)
1 onion, sliced in julienne
1 ½ to 2 cups (¾ to 1 pint/355 to 475 ml) of beef stock or beef bouillon
1 tablespoon (15 ml) (½ oz/15 gm) tomato paste or tomato puree
2 cloves mashed garlic
½ teaspoon (2½ ml) (1 gm) thyme leaves
1 bay leave (Julia says it has to be crushed, I prefer not to crush it so that I can remove it at the end of the process)
The blanched bacon rind
18-24 small onions, brown-braised in stock
1 pound (½ kg) mushrooms sautéed in butter (Champignons are perfect for this purpose)
Fresh parsley sprigs to serve
Directions:
1.Prepare the bacon: Remove the rind. Cut the bacon into lardons (Sticks, ¼ inch thick and ½ inch (5 mm x 15 mm) long) and simmer everything in 4 cups (1 litre) of water for 10 minutes. Drain and dry carefully with paper towels.
2.Dry the meat cubes carefully with paper towels.
3.Preheat oven to hot 450ºF/230ºC/gas mark 8
4.In a fireproof casserole or a frying pan, sauté the lardons in a tablespoon of olive oil for 2-3 minutes until they're lightly brown. Remove them to a side dish with a slotted spoon.
5.In the same casserole/pan, sauté the beef until it's golden brown. Remove it to the side dish where you keep the bacon and set aside.
6.Still in the same casserole/pan, sauté the carrot and the onion.
7.Return the bacon and the beef to the casserole. Sprinkle it with salt and pepper, then add the flour and toss.
8.Place the casserole/dish uncovered in the middle position of the oven for 4 minutes. This gives the meat a lovely crust.
9.Remove the casserole/dish from the oven. Stir in the wine, stock, tomato paste, mashed garlic cloves, thyme, bay and the blanched bacon rind.
10.Bring it to simmering point on the stove. Now, if you were using a frying pan, discard it and put the stew in an oven proof dish.
11.Cover the casserole/dish (If your dish doesn't have a lid, use aluminum foil and stretch it to the edges of the dish in order to minimize the loss of juices) and place it low in the oven. Adjust the heat so that the liquid simmers very slowly, it has to go on for 3-4 hours.
12.While the stew is cooking, prepare onions and mushrooms. For the onions: Melt 1 tablespoon butter in a frying pan and sauté the peeled onions until golden brown. Add beef stock until they're almost covered and simmer for 20-25 minutes, or until almost all the liquid disappears and they're tender but keep their shape. Set aside.
13.Prepare the mushrooms as well: Wash quarter and sauté them in 2 tablespoons butter. Keep on stirring until they're nicely brown. Set aside.
14.When meat is tender, put the stew into a sieve over a saucepan, wash out the casserole and return the stew to it. Put onions and mushrooms over the meat.
15.Skim the fat off the sauce. Put the saucepan on the stove and simmer it for 2-3 minutes. Skim additional fat if it rises. The sauce should be thick enough to coat a spoon. If not, boil it until it thickens. If it's too thick, stir in some stock or bouillon to make it lighter.
16.Pour the sauce over the stew. Put the casserole on the stove or in the oven and reheat for 2-3 minutes. Serve it in the casserole with some sprigs of fresh parsley. Some goods sides are potatoes, noodles or rice.