Friday Favorites is another almost weekly feature here at Simply Budgeted. The whole point of this feature is to share some of our favorite finds. Anything is game. Food. Cleaning supplies. Kid stuff. Garden favorites. Recipes. Anything that I really like and want to randomly post about.
Reminder/Disclaimer/Whatever: Everything in Friday Favorites is something that we use and bought on our own.
A few weeks ago, I started searching for a recipe for Zucchini Brownies. I found one by Mommy I'm Hungry that was inspired by one from blogchef.
So I started to make the recipe … I had written it down and everything and then it didn't look right to be brownies so I started changing the recipe. This recipe makes a cake-y brownie. If you like a fudge-y brownie you might try the original recipe!
This picture isn't going to win me any awards but it does show how yummy these brownies are so I hope you keep reading!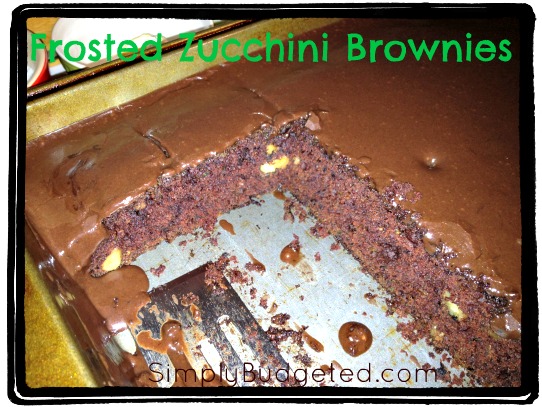 Frosted Zucchini Brownies
½ cup vegetable oil
1 ½ cups white sugar
2 teaspoon vanilla extract
2 cups all purpose flour
½ cup unsweetened cocoa powder
1 ½ teaspoons baking soda
1 teaspoon salt
2 cups zucchini (shredded)
½ cup chopped walnuts or pecans
2 eggs
Chocolate Frosting-
6 tablespoons unsweetened cocoa powder
¼ cup butter
2 cups confectioners sugar
½ cup 2% milk
½ teaspoon vanilla extract
Pre-heat the oven to 350 degrees. Spray a 9×13 inch baking dish with the spray+flour (or flour after spraying). Mix together oil, sugar, eggs, and 2 teaspoons of vanilla extract. Add flour, ½ cup cocoa powder, baking soda and salt.  Mix in zucchini and walnuts. Spread into the baking dish. Bake for 30 minutes until a tooth pick comes out clean. Allow to cool completely.
In a small saucepan, over low/medium heat melt together the cocoa powder and butter (this took a lot of stirring and I upped the heat some to get it moving along but kept stirring so it didn't burn!)  Let cool (so you can touch it and not think it is hot). In a medium bowl mix confectioner's sugar, milk, and vanilla extract. Stir in the chocolate mixture. Pour over the brownies and move the pan around to cover the tops. This icing pours out over the brownies and super yummy. I loved. Brian didn't. The second time, I used less milk 1/4 cup and it was more of a traditional spreadable icing that Brian liked better. (I still loved the poured version as it reminds me of the icing my mom puts on her Texas Sheet Cake!)
What have you been making with zucchini? Leave us a comment and let us know!