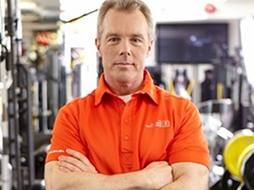 He's the man behind the hottest bodies in Hollywood
Gunnar is one of America's most sought-after personal trainers. With more than 25 years of unparalleled experience in the fitness game, professional athletes and celebrities alike turn to him when they can't leave their performance to chance. Gunnar is also an accomplished author, speaker and fitness equipment developer.
Look great in 8 with The Gunnar Challenge, an exclusive online program designed by Hollywood trainer Gunnar Peterson. In just 8 short weeks you'll push yourself farther than you ever thought possible, work towards the body you've only dreamed of and reap the rewards of a healthier, more confident you.
My Week 7 Check-in
This is my non-check-in check-in for week 7. I have been a lot of excuses lately but this last week was interesting. My workouts have been in the yard moving a tree that the storm took down. Brian has been doing the major lifting by with it being 100 + degrees, I have been helping as much as I can when I am at home. I have done OK watching what I eat … heck, I sent the pan of brownies to church with Brian last night so they didn't sit in my kitchen. I totally forgot to weigh-in this week. I will get all of my final numbers to post next week though. Maybe this week I can do some indoor workouts since that tree is now all piled up waiting to dry up and be burned later in the fall!
Watch for my weekly check-ins as I keep working my way through the Gunnar Challenge! Also be sure to cheer on Tara at MommyHeadAdventures.com and Megan at WeightLossMother.com as they are participating in this challenge too!
I am still hoping some of you have a favorite low-calorie recipe you can share with me. Leave me a comment to let me know those recipes or recipe sources!!