These are two types of therapy I love. I will be the first to admit the shopping therapy rarely happens though … you know this whole life on a budget thing plus a job and family that keeps me busy. Baking Therapy on the other hand, I seem to find time for that. Some times it is after the kids go to bed and I bake just for the sake of baking. That is tonight. I printed out two recipes and didn't have the ingredients for them. I search through my Pinterest Cakes Board and couldn't find a recipe I wanted to make that I had the ingredients for there either.  I needed to bake so I kept looking and ended up on my Pinterest Cookie Board. I found the recipe for Skillet Baked Candy Bar Stuffed Double Cookie so I used that for my inspiration.  don't need to eat the cookies … sure I will eat one or two but the baking is the therapy not the eating for me. I think it is the measuring and mixing and creating that I love. So …. Ta-Da …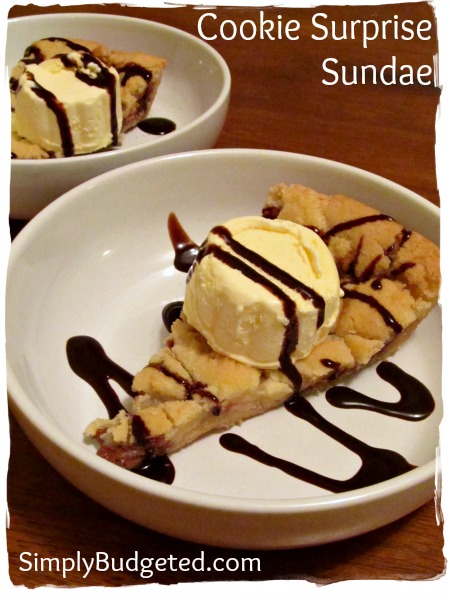 OK I was ready to take the picture and Brian (This Cookin' Dad took over and styled that picture. What do you think?)
Want to make your own Cookie Surprise Sundae?
I totally cheated.
Ingredients
2 rolls of Sugar Cookie dough
1/2 roll of Chocolate Chip Cookie dough (or use the full thing!)
approximately 12 piece of candy (we used Reese cups, Twix, Snickers, Kit Kat bars that were left over from gosh knows what candy collecting event the kids attended … the Christmas parade maybe?)
Directions
Heat the oven to 350 degrees. Spray your cast iron skillet with a cooking spray. Press one package of sugar dough into the skillet. Place candies on top and add the chocolate chip cookie dough to the middle of the candies. Cover the top with sugar cookie dough. Bake for 35-45 minutes. I baked it for 35 minutes and it is gooey so if you like gooey for the lesser time!
Flip it out of the skillet onto a cutting board. Cut into pieces with a pizza cutter. Top with ice cream and chocolate syrup. Enjoy!
I don't need to eat the cookies … sure I will eat one or two but the baking is the therapy not the eating for me. I think it is the measuring and mixing and creating that I love. Well, I don't even need to measure or mix apparently. I can just create and be happy but apparently I need to go shopping so that I can make those recipes I printed out today!
How about you? Do you like shopping therapy or baking therapy? Well you can either go shop for shoes or go buy baking supplies because Cosmetic Surgery Center of Maryland is offering one of our readers a $50 Visa gift card.  Good luck in the giveaway!
NOTE: No compensation was received for this post.