On my recent trip to Chile, I was on the lookout for traditional dishes that I could bring back home to share with my family and with yours.  One dish that really stood out as something that my family would love to eat was a simple peasant dish called charquican.  Charquican is, traditionally, a Chilean beef stew.  It was originally made with beef jerky, or charqui.  As I understand it, most people just use stew beef.  Typically, people will mash up potatoes and winter squashes and add whatever veggies they have hanging around.  It really seems to be a "clean out the fridge" kind of dish.  That's right up our alley!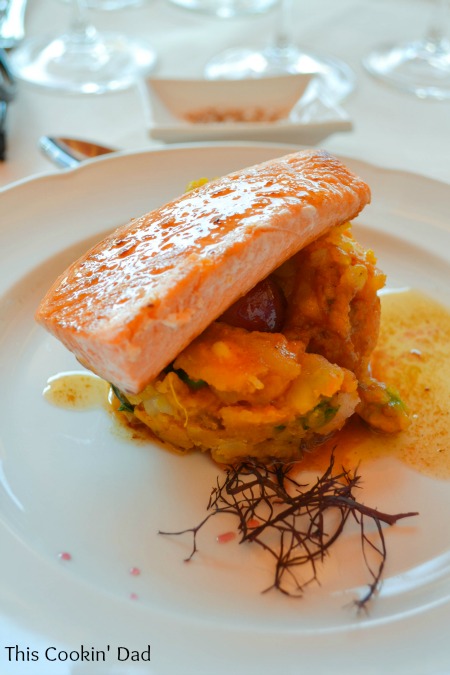 The version that I had during my trip was a little more dressed up.  With a red pearl onion pickled in a red wine sauce, drizzled in a butter sauce, and topped with a nice piece of salmon, the restaurant version of charquican was really something special.  However, the homeyness of the base really shone through for me.  Since it was served as a side dish, there was no beef.  This struck me as a great opportunity for a Meatless Monday!  As such, one of my first recipe attempts after coming back from Chile was to make this meatless version of charquican.  I hope you enjoy!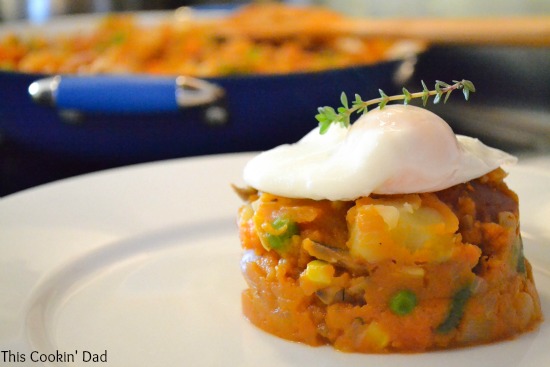 Vegetarian Charquican
In order to make this side dish into a filling, and satisfying, main meal, I added mushrooms and topped the whole thing with a poached egg.  The meatiness of the mushrooms and the velvety egg yolk combine to really bring this whole thing together.  I'm a big eater and one serving was all I needed to leave the table happy.
Ingredients
5 large red potatoes, cut into half-inch cubes
3 Tbsp. olive oil
1 medium onion, diced
8 oz. mushrooms, sliced
2 cloves garlic, minced
3 sprigs thyme
1 tsp. paprika
1-12 oz bag frozen mixed veggies
1-15 oz can pumpkin
1/2 cup white wine
salt and pepper, to taste
2 tsp. merken (optional)
8 eggs
Directions
1.  Place the potatoes into a medium-pot, cover with water, salt well, and bring to a boil.  Boil until potatoes are tender.  Drain and set aside.
2.  Heat the oil in a large skillet over medium-high heat.  Add the onion and mushrooms.  Season with salt and pepper and allow to cook until beginning to brown, about 3-5 minutes.  Add garlic, thyme, and paprika.  Cook another 2-3 minutes.
3.  Add mixed veggies and potatoes.  Stir to combine.  Season with salt, pepper, and merken, if using.  Allow to cook until the mixed veggies are warmed through.  Add pumpkin and wine.  Stir until thoroughly combined.  The mixture should have a creamy texture holding the potatoes and vegetables together.  If the mixture is too tight, add another splash of wine or water until you reach the desired consistency.  Cover and put over a low heat to stay warm.
4.  Fill a wide saucepan with water and allow to come to a simmer.  Crack eggs into individual bowls and pour into the water.  Turn off the heat and cover.  Let stand for about 4 minutes.  Remove to a paper towel to drain.
5.  Scoop the charquican onto a plate.  Top with one of the poached eggs.  Serve and enjoy!
Do you think that you could tell the difference between my dish and the one served at the restaurant?  What would you change to have this fit your family?  Would you like to see more of these dishes from Chile?  Leave us a comment and let us know!