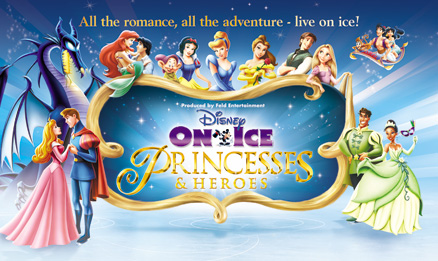 Thanks to Feld Entertainment for making this post about Disney On Ice:  Princesses & Heroes possible.  We received tickets to this show in exchange for a review.  All thoughts and opinions are my own.
Disney On Ice is at it again and visiting Charlottesville, VA through Sunday, October 13.  This time, they are pulling out popular princesses and their heroes for a fun and exciting trip through several of Disney's favorite stories.  Disney On Ice:  Princesses & Heroes features the tales of Aladdin, Snow White, Beauty and the Beast, The Little Mermaid, The Princess and the Frog, Sleeping Beauty, Cinderella, and Tangled.
Our kids were thrilled when they heard that we would be going to watch their favorite characters ice skating.  The girls have been talking about princesses all week and Matthew has been wanting to learn more about those heroes so that he can be one too. As with any of these shows, the evening started in the lobby.  The kids were more than happy to spend some of their allowance money to pick up a special memento from this show.  Grace got a writing set, Sophie decided on an Ariel necklace, and Matthew just had to have a dragon sword that lights up. They were ready to watch Disney on Ice Princesses & Heroes!
It was pretty easy to feel the excitement in the room.  When we got settled in, a little girl (maybe 2 or 3), who was sitting on her mom's lap, decided to strike up a conversation with me about her favorite princesses.  This conversation continued on and off throughout the evening.  I found out that Belle was her favorite princess and that her dad's least favorite princess is Snow White.  Once the show got started, though, everything pretty much stopped.  The kids were sitting slack-jawed with eyes wide open and laser-focused at the action on the ice. Did you catch Beth's picture on Instagram that explains it all?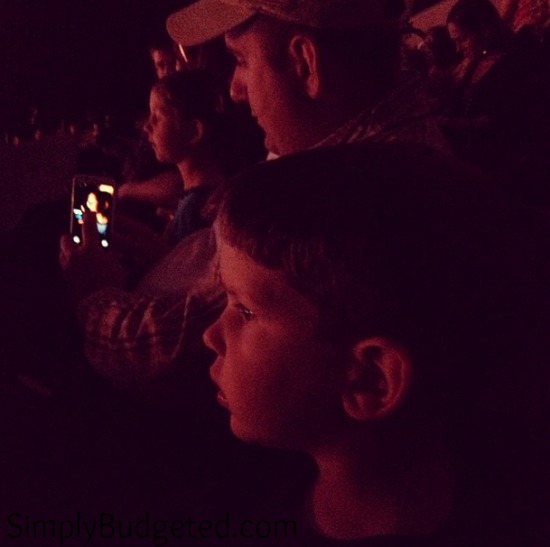 The evening was hosted by none other than Mickey and Minnie Mouse with help from Tinkerbell and a special appearance by Goofy.  The first scene started things off with the exciting opening sequence from Aladdin.  The movement was fast-paced, funny, and really followed the storyline.  Sophie particularly loved to see the ice-skating camel!  Some other highlights of the show included some fantastic catapult work and fabulous group skating during the The Little Mermaid segment, a wonderful fight scene (including a dragon!) during the Sleeping Beauty segment, and some incredible individual skating during the Cinderella segment.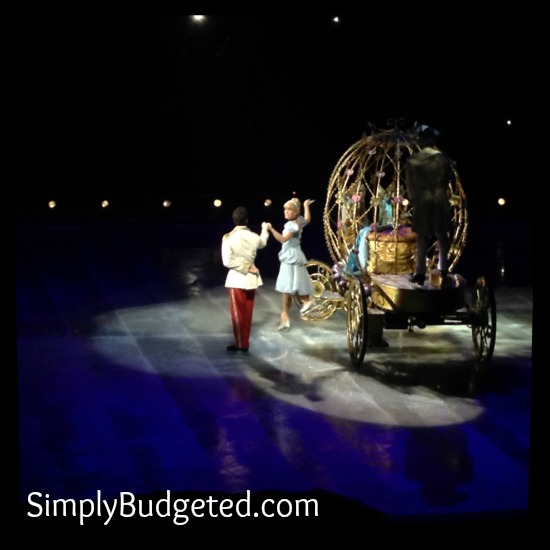 The finale to the Disney on Ice Princesses & Heroes a wonderful ending to a great show!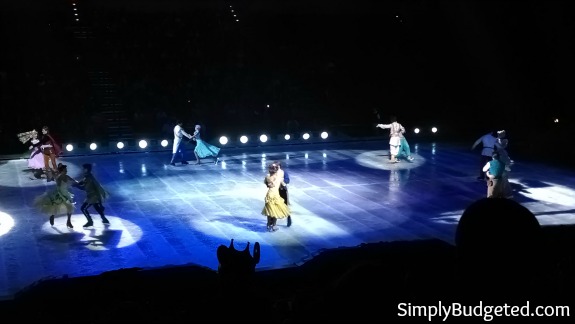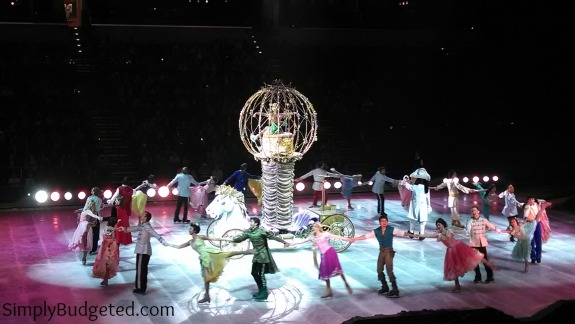 If you aren't local to Charlottesville be sure to check out the schedule online at Disney on Ice to find a show coming to your area!