Many thanks to STI Fleet Services for making this review of the 2014 Kia Sorento possible.  All thoughts and opinions are my own.
Recently, Beth and I took a trip down to Southwest Virginia to attend Mixed, a small food blogger conference held at Mountain Lake Lodge.  This is the same place that much of the filming for the classic movie, Dirty Dancing, took place.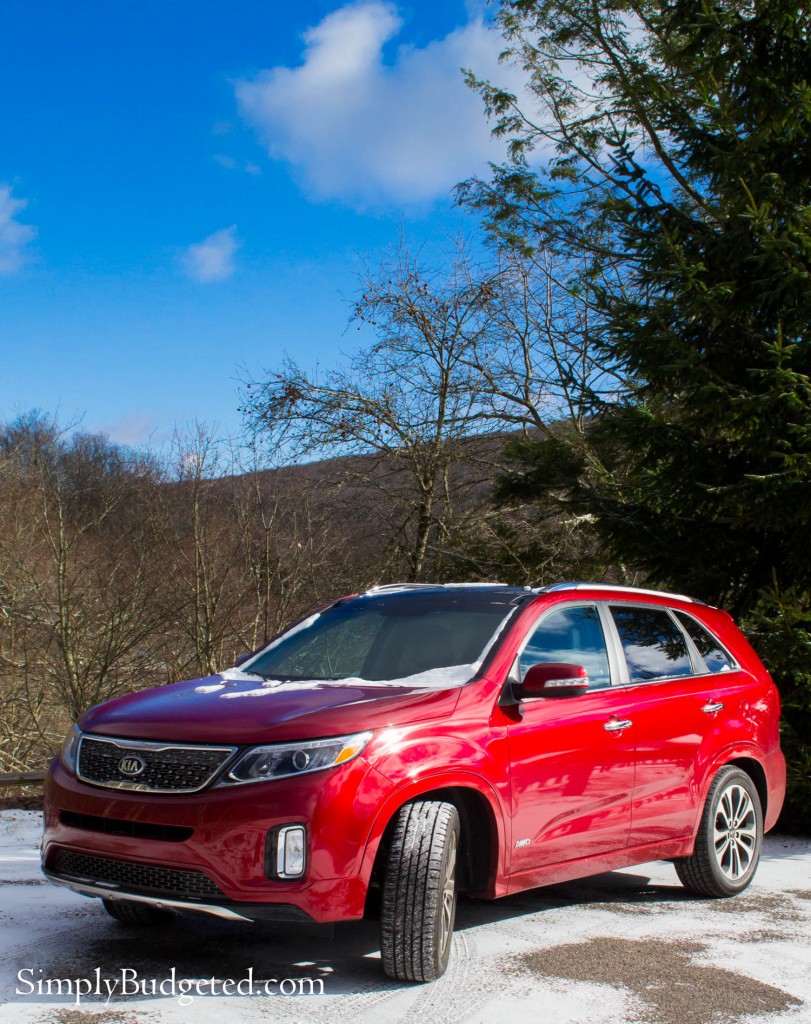 We were so happy to take the 2014 Kia Sorento down and really test it out on a long distance trip.  We had time on the interstate as well as a long climb up the mountain.  Before and after the trip, we used it to run errands with the kids.  We even had a light snow up on the mountain!  We put a lot of miles on this vehicle for the week that we had it.  Isn't it beautiful?
The 2014 Kia Sorento is a mid-sized crossover SUV, or an SUV built onto a car frame, rather than a truck frame.  This basically means that you get some of the interior packaging features of an SUV with the handling features of a car.  You can definitely feel all of that here.  We were able to fit our entire family into the car for some basic running around town and the car handled incredibly well.  The FOB was very convenient.  If it's in your pocket, you just walk up, push the button, and drive off.  No more fumbling for keys!
One of my favorite features is the option to select how you want to tune your steering.  You can choose between Sport, Normal, and Comfort.  For the twisty mountain roads and running errands around town, I found the Sport setting to have a little more responsiveness.  The Comfort setting was a little looser and very nice for that long stretch of highway.  If you don't really pay too much attention to how your steering responds, Normal would probably be a fine setting for you.  Either way, it's nice to have the choice.
Since we currently own a minivan, I found the front seat to be a little small for my backside.  Otherwise, the front and middle sections of the car seemed plenty roomy.  I probably just need to lose a few pounds!  There is an ever present GPS confirmation screen that is a little obnoxious, but the big miss, in my mind, is the third row.  We have three little ones who still need to be in car seats.  Since they do not fit across the entire middle seat, we had to put one in the back seats.  Access back there, even with the car seats out, is difficult.  With car seats in, it's nearly impossible.  I wound up having my 7-year-old crawling in through the rear hatch.  It was fun for her and made the other kids jealous, but it was a bit of a pain for me.  On top of that, the rear seats do not have any LATCH connections.  I have to say that I was a bit disappointed over that.
Overall, this is a great vehicle.  If we only had two kids or our kids were two or three years older, this would definitely be right in our wheelhouse.  It's sporty, can fit the whole family and groceries or luggage for a trip, drives well, gets decent gas mileage, and is very affordable.  Unfortunately, with the craziness of three kids in car seats (and the lack of LATCH in the rear seats) it's just too small for our family right now.  This has way less to do with this particular vehicle than it does with the class as a whole.  In three years, I will definitely be on the lookout for a crossover SUV.  Hopefully, the KIA Sorento will be as strong an option then as it is now.
Is your family on the lookout for something smaller than an SUV, but larger than a car?  What do you think about the 2014 KIA Sorento?  Leave us a comment with your thoughts.