This shop has been compensated by Collective Bias, Inc. and its advertiser. All opinions are mine alone. #CollectiveBias #SilkAlmondBlends
The ladies on Beth's side of the family have passed down a Banana Nut Bread for a couple of generations now.  It's pretty straight-forward, but always comes out moist and delicious with just the right amount of banana and the perfect crunch of pecans or walnuts.  What I love most about it is that, while it is great on it's own, it is also very easy to change up for different takes on banana bread.  Since I've been looking for an excuse to do a little cooking with almond milk, we looked to a little help from Silk Almond Coconut Blend to see how far we could take this family recipe.
Beth cringes a little every time I suggest changing up her grandma's recipe, but she has yet to be disappointed with the results.  To me, though, the changes just make sense.  They don't take away from the original, but use the original as a base for creating something new.  When I think of banana, coconut and almond are among the first combinations to pop into my head.  Changing the recipe was as easy.  We started at Safeway to pick up the Silk Almond Coconut Blend to use in place of the milk.  We made it a point to have the kids helping us out with that.  If they don't start shopping now, when are they going to learn, right?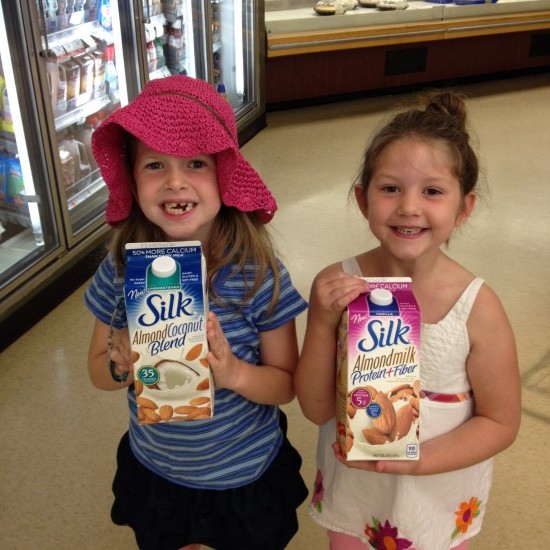 We made the batter just the way we always do except that, when it came time to add the milk, we substituted Silk Almond Coconut Blend.  We also added an extra tablespoon of sugar to make up for the missing sweetness.
Next, in place of the 1 cup of chopped nuts, we measured out 3/4 cup of slivered almonds and 1/4 cup shredded coconut.
We even got our little man involved in mixing things up.  This is just the first step in passing these recipes down to the next generation.
We poured the batter into the loaf pans and put them into the oven to bake.  Just as they were finishing, we started with the glaze.  I introduced the idea of a glaze for these a couple of years ago and got the worst glare that you can imagine from Beth.  Her family doesn't do a glaze on their banana bread!  My mother-in-law likes to toast her banana bread in the morning and the glaze makes that impossible.  If you want something a little sweeter, though, glazing it makes a tasty addition.  I have yet to get a complaint doing it this way, though I still get the occasional glare.
It's remarkably simple.  To make the glaze, you take 2 cups of powdered sugar and 3 tablespoons of milk.  You can adjust based on how thick you like it.  Personally, I loved using the Silk Almond Coconut Blend for this as it added a little extra kick of those flavors that are running throughout the bread.  Once the bread is out of the oven, take a skewer and poke 15-20 holes into the bread.  Then drizzle the glaze evenly over the entire loaf.  Let it sit and cool, soaking up all of that sweet goodness.  YUM!!
Check out the entire recipe below.
Do you have any family recipes that you change up from time to time?  How are you passing them on to your little ones?  Leave us a comment and share your story.
Coconut Almond Banana Bread
Ingredients
Bread
1 C ripe mashed bananas
2 1/2 C flour
1 C, plus 1 Tbsp, sugar
3 1/2 tsp baking powder
1 tsp salt
3 Tbsp vegetable oil
3/4 C Silk Coconut Almond Blend
3/4 C slivered almonds
1/4 C shredded, sweetened coconut
Glaze
2 cups powdered sugar
3 Tbsp Silk Coconut Almond Blend
Directions
Preheat oven to 350 degrees.  Grease and flour loaf pan.
Beat together all ingredients except for almonds and coconut on medium speed, scraping bowl continuously.  Fold in almonds and coconut.  Pour into loaf pan.
Bake 60-75 minutes or until toothpick inserted into the center of the bread comes out clean.
Prepare glaze by combining sugar and Silk Coconut Almond Blend.
Once bread is finished baking, poke 10-15 times using a skewer.  Drizzle glaze over the bread, coating evenly.  Allow to cool in pan 4 hours or overnight, covering with a kitchen towel if necessary.
Carefully remove from pan, slice, and enjoy.