Note: This shop is part of a social shopper marketing insight campaign with Weave Made Media® and Smithfield®, but all my opinions are my own. #weavemade #PutPorkontheMenu http://my-disclosur.es/RgFrEH
If you have kids, you know that one of the challenges you face every day is putting out a healthy dinner that everyone will eat.  While I don't subscribe to the concept of cooking a different meal each night for each family member, I don't have a problem buying a single piece of meat like a Smithfield Marinated Pork Sirloin or Tenderloin, cooking it once, and creating several different meal options from it.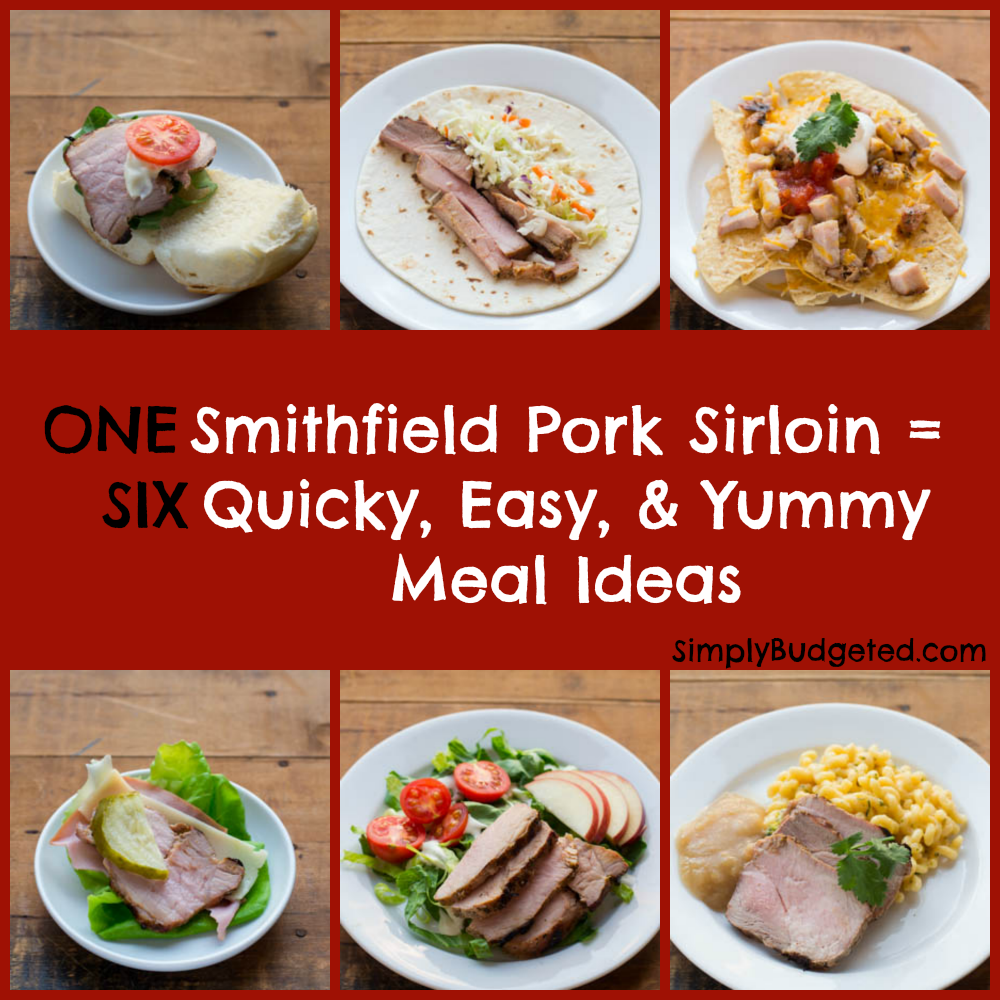 I know know too many people who spend hours cooking dinner because they feel the need to please each member of the family.  I, typically, do not feel so inclined.  My time is better spent doing other things.  Still, if I can please the entire family with a minimum of effort on my part, everyone wins!  At times like that, I usually rely on the convenience of products like Smithfield Garlic & Herb Pork Sirloin from Walmart.  From this single piece of meat, I can create six different dinner options:  sliders, tacos, nachos, Cuban lettuce wraps, salads, and even a plated meal, complete with side dishes!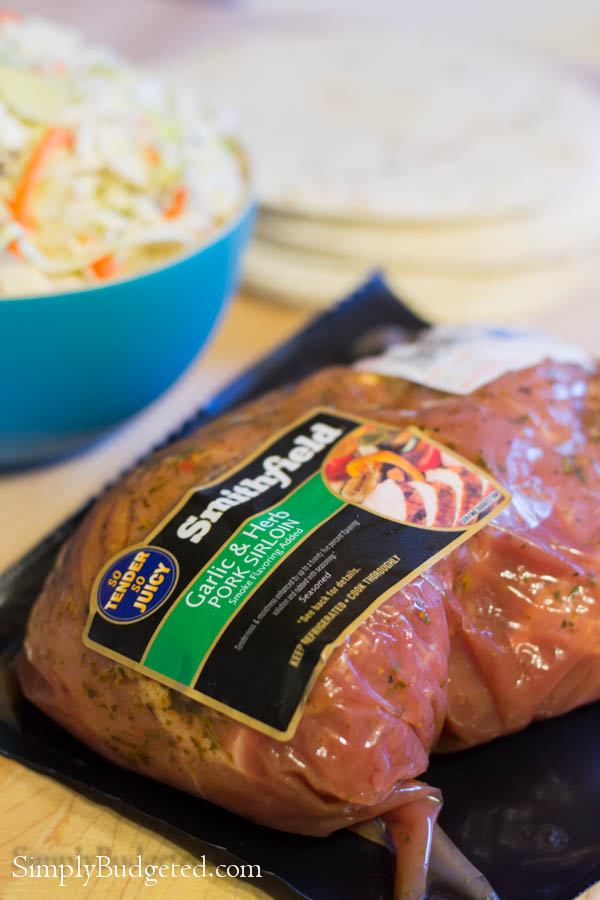 If I need a few other things like rolls, tortillas, sour cream, or any produce, I'll pick them up while I'm at Walmart grabbing the pork sirloin, but, to be honest, that's all stuff that I tend to keep on hand anyhow.  Let me tell you how I make creating such a variety of meals so quick and easy!
First, I pull the meat out of the refrigerator so that it starts to come up to room temperature.  This will help it cook a little more evenly.  While the meat sits, I light up my grill so that it start to heat up.  It takes about 10 minutes for that to happen, so this is when I'll start taking orders so I know what else to prep while the meat is cooking.
Once the grill is ready, I cook the pork sirloin over medium to medium-high heat for 20-30 minutes, turning it over after about 15 minutes.  You'll know it's done when your thermometer reads about 170.  That's when you pull it off to a plate, cover it with foil and let it rest for about 10 minutes so that it finishes cooking while staying moist and juicy!
The trick to being quick here is getting all of your plates ready to go and cooking any sides while the meat cooks.  Here's what we wind up with.
1.  Pork Slider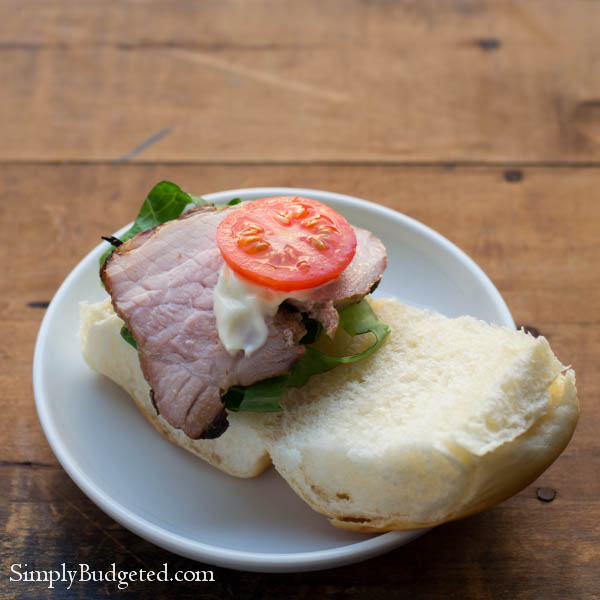 For our Pork Slider, we take 1 Hawaiian Roll and top it with shredded lettuce, a dollop of mayo, a slice of tomato, and one slice of pork sirloin.  I like to have everything ready to go, adding the slice of pork right at the very end.  It's pretty easy to put down 3 or 4 of these!
2.  Pork Taco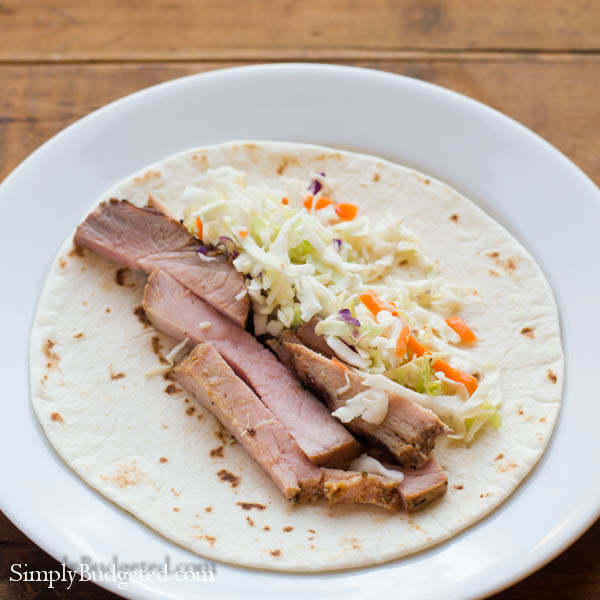 Pork Tacos are so simple, that you may find yourself sneaking these as a midnight snack with any leftovers.  Just take one tortilla, a few strips of pork sirloin, a small handful of shredded coleslaw mix, and any other toppings you choose (i.e., sour cream, salsa, green onions).  Easy, right?  Again, make these ahead and just add the pork after you've sliced it up.
3.  Pork Nacho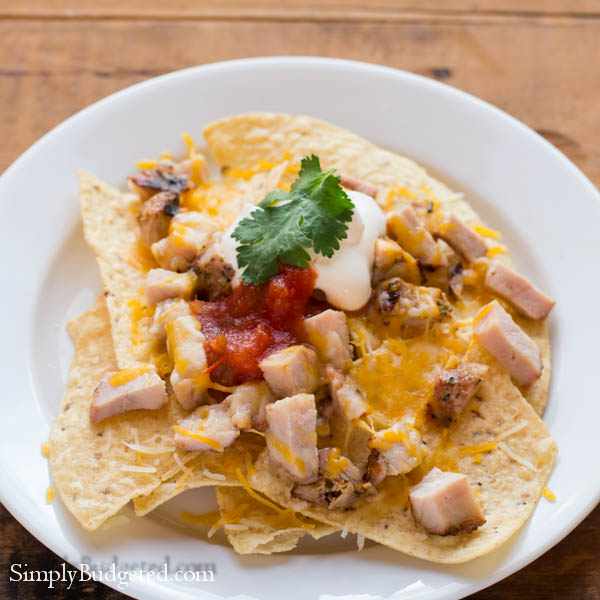 Nachos are one of my favorite simple meals.  Place a good handful (or two) of corn tortilla chips onto a microwavable plate.  Add some diced pork sirloin and a heavy sprinkle of shredded cheese, and pop into the microwave for about 45 seconds.  Top with sour cream, salsa, and whatever other toppings you like.  Easy as can be and so tasty!!
4.  Cuban Lettuce Wraps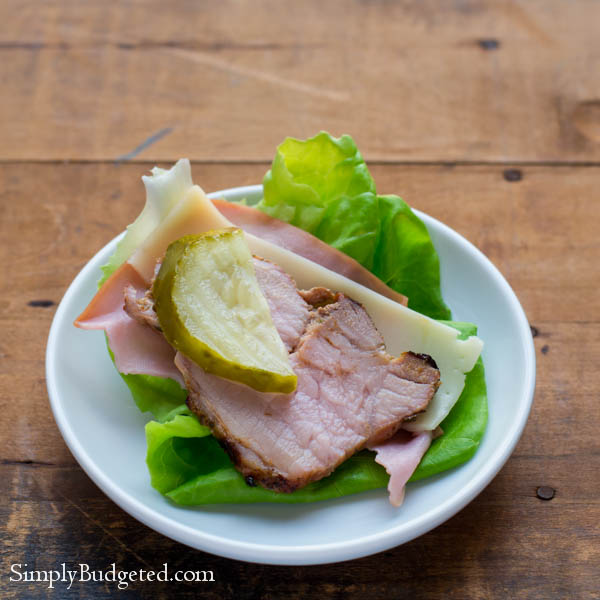 I love Cuban sandwiches.  When they are done right, I can't think of a sandwich that I like better.  I admit, though, that the bread can get a little heavy sometimes.  We decided to lighten things up a little by taking one leaf of bibb lettuce and topping it with thinly sliced ham, Swiss cheese, a slice of pork sirloin, and  a pickle.  A little mayo or mustard and you'll be in Miami heaven without all of heavy starches.  This is a great option for those watching their waistlines and, since it can be put together while the pork is grilling, it can be ready in a flash.
5.  Salad with Sliced Pork and Apples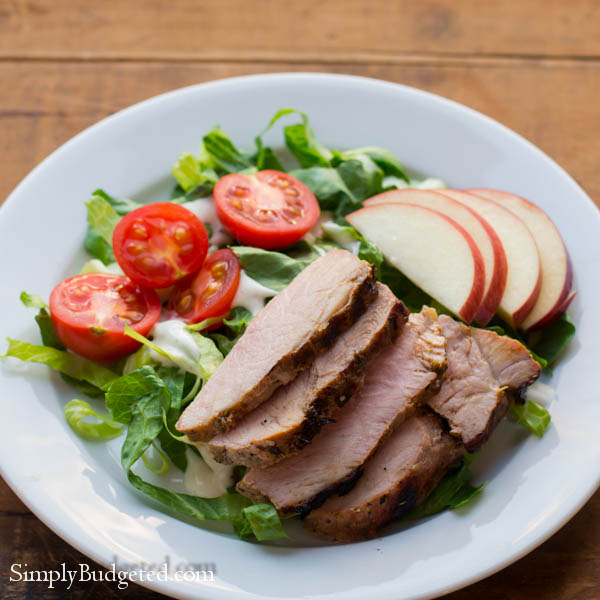 Who doesn't love a great fall salad?  With sliced pork sirloin and sliced apples sitting atop a bed of shredded Romaine lettuce with tomatoes and Ranch dressing, the flavors of fall jump off of the plate.  Plate the lettuce, tomatoes, and dressing while the pork rests and add the sliced pork and apples right at the end.  Tip:  Slice the apples ahead of time and leave them sitting in a bowl of water with just a splash of lemon juice so that they don't go brown.
6.  Pork Blue Plate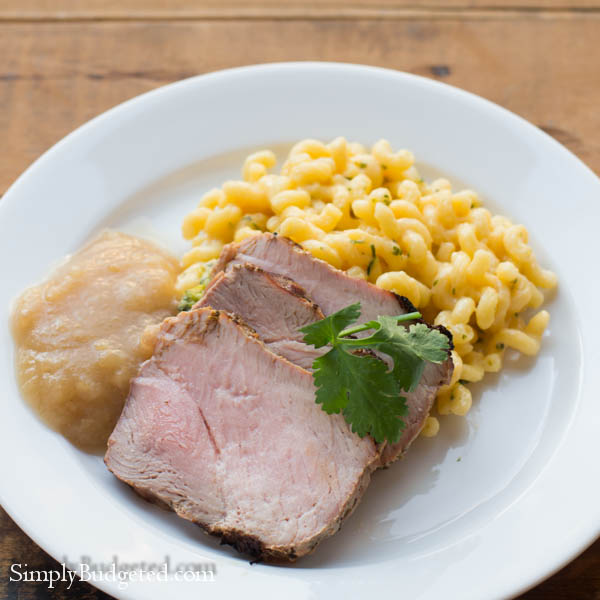 While the pork is finishing up on the grill, I start up one of those bags of noodles with some sort of sauce (cheddar with broccoli is our kids' favorite).  You could also make up a box of mac & cheese, some potatoes, or some rice.  These are easy starches and give another great option for picky eaters.  I can slice up the pork, put a slice or two onto the plate with a side of whatever starch we are using, some applesauce, and/or some other veggie side.
I kid you not when I say that I can take this from start to finish with six completely different meals and have everyone fed within 45 minutes of pulling the meat out of the fridge.  It would take us that long or longer to eat out and I'm so much happier about what my children are eating.
Ready to grab a Smithfield Pork Sirloin? Receive seventy five cents ($.75) off ONE (1) Smithfield Marinated Pork product at Walmart with this coupon (while supplies last)! Find more recipes on the Smithfield website and Facebook page!
How do you make weeknight meals a little easier?  Share your tricks with our readers.