It has been a pretty long weekend around here.  It was the one weekend that we didn't have planned to go anywhere, but those weekends always wind up busier because you have to work on all of the stuff that you weren't able to get to on the days that you were out.  Beth had homework to catch up on, I had to plan out Sophie's preschool plan.  We had housework, yardwork, bread making, prepping food for freezing, church, shopping, laundry.  You name it, we were on it.  On top of that, I had a lovely little 5-mile run on Saturday morning.  It has been at least 8 years since I have run that far.  I felt good doing it, but I definitely felt the effects all weekend.
Today, both Sophie and Matthew had classes and I have some work to do for the PTO for Grace's school.  I hardly feel like eating, much less cooking.  At busy times like this, I just need a simple meal that I can throw together in a few minutes using ingredients that I keep around the house.  I want it to be healthy, but it also needs to be fast!  This is one of those meals.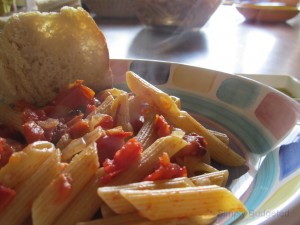 Pasta with Fresh Tomato and Basil Sauce
While your water is coming up to heat, prepare your vegetables.  You can go to the trouble of peeling your tomatoes, but you probably won't notice much difference.  Just slice the top off and squeeze out as much of the seeds and liquid as you can so that your sauce isn't too juicy.  Then cut them into pieces about the size of your thumbnail.
Ingredients
1 box pasta (Grace asked for the Penne, but use whatever you have handy)
2 T olive oil
1 small onion, diced
2 cloves garlic, minced
1 lb fresh tomatoes, seeded and diced (Roma are best, but who can be picky at times like these)
salt and pepper to taste
10-15 basil leaves, thinly sliced
Directions
Prepare pasta according to package directions.
While pasta is cooking, add oil to large saute pan over medium heat.  Add onions and cook until just beginning to turn transparent, about 5 minutes.  Add garlic and cook another 2-3 minutes until garlic is very aromatic.  Add diced tomatoes, salt, and pepper.  Continue cooking to reduce down the amount of liquid.  Add the pasta directly from the cooking water and stir it around until the sauce begins to stick to the pasta just a little.  Sprinkle with the basil and serve with garlic bread (and maybe something green).
From putting the water on the stove to sitting down to eat took all of about 30 minutes.  That includes chopping everything after starting the water and having little "helpers".  As a bonus, those picky little helpers ate really well!  I hope that you enjoy this quick, simple recipe.  Leave us a comment and tell us what you think!