This year we participated in The Great Food Blogger Cookie Swap. We aren't really food bloggers in that we don't only blog about food but we do loving sharing our recipes and this was a great excuse to make a new cookie. We decided to look through my grandma's cookbook. We found a recipe on a piece of old newspaper that was for "Orange Cookies". I say recipe loosely because the recipe was missing ingredients and directions, the cooking temperature was off as was the ratio of almost every ingredient in the recipe. The recipe sounded great though so we made it our mission to create a Orange Pecan Cookie that kept that original taste but held up like a cookie!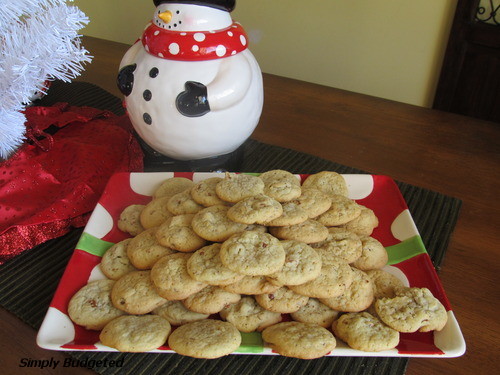 Orange Pecan Cookies
These cookies are light with a slight crisp to them.  The touch of orange flavor and the meatiness of the pecan compliment each other very well.  The recipe makes about 4 dozen cookies so be careful!  They can be pretty addictive and you won't realize that you've eaten as many as you have!
Ingredients
1 C shortening
1 C white sugar
2 large eggs
1 Tbsp orange zest
3 Tbsp orange juice
2 C all purpose flour
1 tsp baking soda
1/2 tsp salt
1/2 C chopped pecans (optional)
Directions
Heat oven to 350.
Beat shortening and sugar on medium speed for about 5 minutes.  Beat in eggs, juice, and zest until well blended.  Combine flour, baking soda, and salt in a medium bowl.  Add to shortening mixture and beat until fully combined.  Fold in nuts, if desired.
Drop by tablespoonfuls about 2 inches apart onto ungreased cookie sheets.  Bake 10-12 minutes or until edges are lightly browned.  Cool on cookie sheets for 4-5 minutes.  Place on cooling racks to cool completely.  Enjoy!
If you try these cookies, let us know. These are a new favorite at our house for sure and we have used this recipe for many cookie events already this year with a few more to go!
What is your favorite holiday cookie swap recipe? Leave us a comment and let us know!