Summer is a time for rest and relaxation, a time when one should not be constrained by the boundaries of a monthly meal plan, right?  Well, that's what we were thinking, anyhow.  We figured that we would try planning weekly meals, but when it came time to shop, we didn't have a plan together to start from.  So we'd pick up a few things that we thought would be easy.  We'd sort of plan on having a meat, a starch, and a veggie, but when it came time to cook, well, no plan turned into not much cooking.  When you try to plan night to night, the tired brain just chooses pizza or hot dogs.  Sure we've had a few good meals over the course of the summer, but we've had trouble planning healthy meals that we can count on night after night.
With all of that having been said, we are back to our monthly meal plans.  The little bit of planning that goes in at the beginning of the month saves so much time and headache throughout the rest of the month.  If we slip from time to time, that's no big deal.  If you have a plan, you can get back on track.  Without a plan, however, that slip can make it really easy to get onto the wrong track altogether.  Here is our plan for this month.  We'll try to post some links to some of the recipes that we have already posted.  We hope that you enjoy our humble offerings and that you join us for dinner from time to time.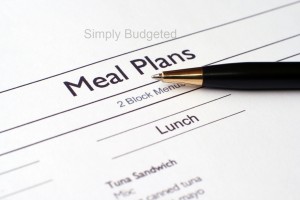 August 2012 Monthly Meal Plan
Week 1 (July 29 – August 4)
We started out the week with some grilled chicken and brown rice, so we are just using the leftovers and some fresh farm veggies to make a fried rice.  We are using a large pack of ground turkey to make the burgers and meatloaf and are even using the leftover meatloaf to make sausage and cheeseburger pizzas for lunch one day this weekend!
Sunday–
Monday–
Tuesday–
Wednesday–Fried Rice
Thursday–Turkey Burgers
Friday–Turkey Meatloaf
Saturday–Dinner Out!
Week 2 (August 5 – August 11)
We are off to the mountains for some camping this week so hot dogs and grilled chicken are on the menu.  Pizza is easy for when we get back on Wednesday and we'll make tacos and lasagna using another big pack of ground turkey.
Sunday–Corn Pancakes with Sauteed Veggies
Monday–Hot Dogs
Tuesday–Grilled Chicken Sandwiches
Wednesday–Pizza
Thursday–Tacos
Friday–Lasagna w/ Salad
Saturday–Leftovers:  Lasagna w/ Salad
Week 3 (August 12 – August 18)
Really easy meals this week as we work on ending the summer before school starts.  The chicken gets to serve two uses.  Cook once, eat twice!  Sausages, apples, veggies and pita will make up a nice easy dinner on Saturday.
Sunday–Breakfast for Dinner
Monday–Pasta Dinner
Tuesday–Chicken Fajitas
Wednesday–Picnicking with Girl Scouts
Thursday–Grilled Chicken Salad
Friday–Pizza!!
Saturday–Appetizer Dinner
Week 4 (August 19 – August 25)
School starts this week and we want to have a couple of nice family meals that are easy to put together after a long day for our big First Grader.
Sunday–Pork Tenderloin with Baked Apples
Monday–Mac and Cheese
Tuesday–Stir Fry
Wednesday–Chicken Nugget Parmesan
Thursday–Cobb Salad
Friday–Spaghetti Dinner
Saturday–Sub Sandwiches
Week 5 (August 26 – September 1)
We love using the grill as it starts to cool off, so grilling some chicken and veggies for the week is right up our alley.  Easy open-faced chicken cordon bleu makes a nice family meal while sausages serve double duty as an appetizer and then paired with yummy cheese tortellini.
Sunday–Chicken Salad Sandwiches
Monday–Grilled Veggies with Bruschetta
Tuesday–Chicken Cordon Bleu
Wednesday–Appetizer Dinner
Thursday–Pasta with Sausages
Friday–Nachos!
Saturday–
As always, if you are looking for recipes or answers on monthly meal planning, please leave a comment or email us with your questions.  We can't promise that we will have all of the answers, but we will do our best to find them!  Just send us an email at [email protected].
Have you tried monthly meal planning? How did it go? Any tips or suggestions?  Leave us a comment and let us know.