December means lots and lots of holiday parties.  Whether you celebrate Christmas, Hanukkah, any number of other winter holidays, or even December birthdays, providing treats for all of the celebrations can strain your budget in a month when presents alone can empty your wallet.
Thankfully, you have help!  Great Value refrigerated dough is here to the rescue once again.  You might remember us posting about some Great Value Thanksgiving goodies, but here are a couple of easy options for the holiday season that you could use in addition to the ones we've shown you before.
Great Value Cinnamon Roll "Cake"
In our house, we celebrate Christmas, or Jesus' birthday.  Therefore, we celebrate with "Happy Birthday, Jesus!" signs and birthday cake.  This year, we decided to try out making a breakfast birthday cake out of Great Value refrigerated cinnamon rolls.  Really, this couldn't be a simpler way to celebrate.  The center is lovingly gooey and poking holes into the "cake" lets the icing flow throughout the entire thing.  Cutting it into wedges means that the pieces separate in the greatest way as you eat it.  YUM!!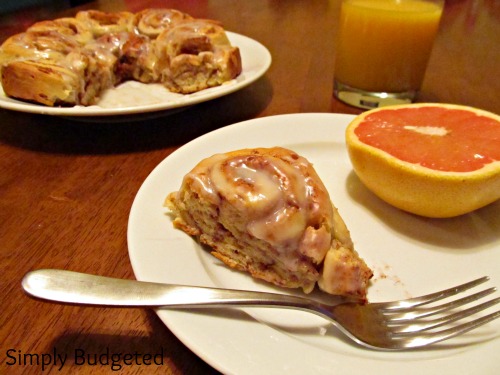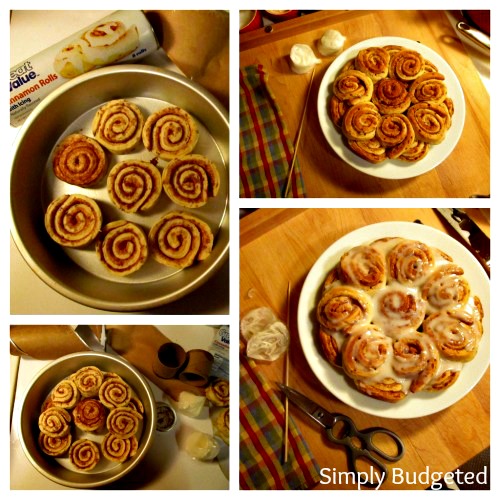 Ingredients
2 cans Great Value refrigerated cinnamon rolls
Really…that's all!!
Directions
Grease a 9-inch round cake pan.  Place the rolls from one can around the edge.  You'll fit about 7 around the edge and one in the middle.   Keep them pretty close, but not touching.  Place the rolls from the next can on top of the first set of rolls.  Place them where the bottom rolls meet and slightly closer to the center.  This will give the "cake" a little structure.
Bake according to package directions.
When you pull the rolls out of the oven, flip over onto a plate and then flip back over so that the top is face up.  Use a skewer to poke holes all throughout the "cake".  Pour both icing containers over the top and spread evenly.  Cut into wedges and serve!
Great Value Frosted Cookie Bites
Sophie's birthday is in December and, with all of the parties that she has (friends, grandparents, preschool, etc.), it's nice to have something besides birthday cake for her party.  These little snacks are great two-bite treats that are sweet, chocolaty  and just cute as can be.  Oh, and most importantly, they are cheap and ohhhh so easy!  Enjoy!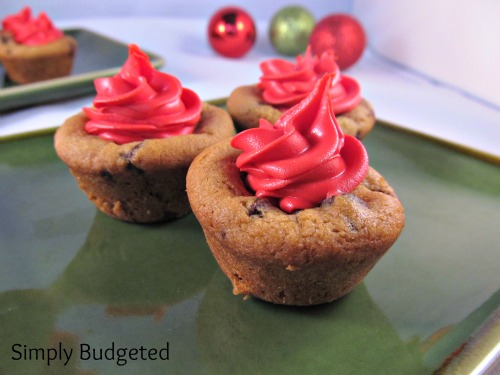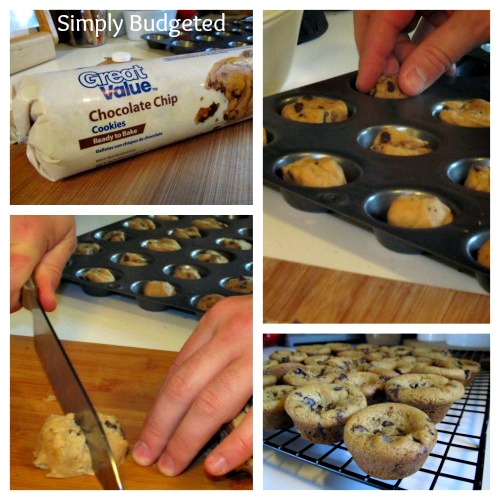 Ingredients
1 package Great Value refrigerated chocolate chip cookie dough
1 package frosting (I used a package of Duff Goldman Red Icing that I got at the Mixed Conference)
Directions
Cut the log into 24 approximately equal pieces (roughly one-inch slices cut in half).  Spray mini-muffin pan(s) with cooking spray.  Roll the pieces into little balls and place into pans.
Bake according to package directions.
Let cool for a few minutes before removing to a cooling rack.  Allow to cool completely before decorating.  Enjoy!!
For more great holiday recipes and budget friendly ideas, make sure you check out Great Value on Twitter:  #GreatValue
What are some great dishes that you've make using Great Value or other store brand refrigerated dough?  Leave us a comment and let us know!