Brian and I tried out eating a paleo diet this January. We have decided we like the term paleo inspired as we did have a few non-paleo items during th months … like the cookies I would give in an eat one about once a week. But it made me think about eating out the cookies so it was a nice change for us. I was happy eating the one cookie instead of eating four of them … you know one each time you walked through the kitchen on a mission to do something else? Yeah that was what I used to do.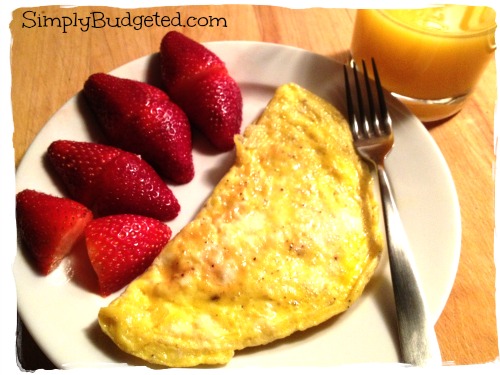 So this became a common breakfast for me … an wanna-be omelet with fruit and maybe half a glass of orange juice. Some days I would add in a turkey sausage and some days like this day I didn't. (We really love the Jimmy Dean's Turkey Sausage patties that Sam's Club sells.)
Eggs. We at a lot of eggs in January. We need chickens now. I am only half kidding when I say that. When the kids get older, we may actually get chickens to have fresh eggs. We have the space but I just refuse to feed another person or animal right now. Anyway back to breakfast, I have to admit that it being January, I seriously missed my warm oatmeal and Grape Nut breakfast meals. It was especially hard to make Grape Nuts for little dude every other morning. (Doesn't your three year old ask for Grape Nuts for breakfast?! No? Well this one does and I love that Grape Nuts is his favorite cereal.) I think that come February that I will give into a bowl of Grape Nuts but not every morning. I have learned that it doesn't really take that much time to make my wanna-be omelet and still get a warm breakfast that will fill me up and that is a good thing.
Did you try a new way of eating in the new year? How did it go for your? Leave me a comment and let me know what you learned!