I participated in an Influencer Activation on behalf of Mom Central Consulting for State Farm. I received a promotional item to thank me for participating.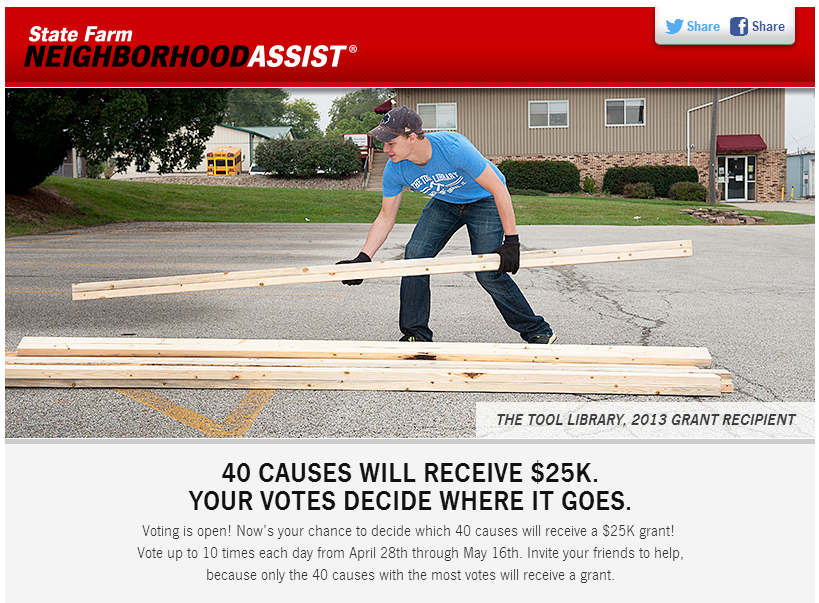 What is State Farm Neighborhood Assist?
Communities across the United States and Canada answered the call from State Farm to help create a positive impact in their community and submitted 4,000 causes as part of this year's State Farm Neighborhood Assist. Now the top 200 causes have been selected by the State  and they need your "assist" to help vote them into the top 40. Through May 16, anyone who has the free State Farm Neighborhood Assist Facebook application can vote daily for their favorite cause, or causes, and help bring $25,000 to the top 40 vote getters. 
What to see a winner from last year? Check out this video …

Check out this infographic …


We love that 45 states had a cause in the top 200! You are certain to find a cause that is either local or close to what you support locally on your own!!
You can vote on the State Farm voting page! We were excited to find a local campaign to vote for when we went to vote! We voted for the GROWING MICRO BUSINESSES cause in Charlottesville, VA. It is local to use and it a great cause! Check out their submission:
How would you use the $25,000 to address an unmet need in your community?

Volunteers from across our community leverage knowledge, tools, capital, guidance, and support systems so that entrepreneurs with the passion/drive to build their own enterprises, but without resources, can do so. CIC would use the $25k will provide scholarships to help as many as 40 individuals take our 17 week entrepreneurial education workshop. Through a combination of a the workshop, mentoring, micro-lending and networking, entrepreneurs develop the skills, tools, and connections they need to launch or grow their business. After completing the workshop, they are eligible to apply for micro-loans to help finance their business.

How much of a lasting impact on your community will your cause have?

Each successful business in a low/moderate income neighborhood acts as a powerful model for others. With 51 graduates of CIC, 13 businesses have expanded, 10 new ones opened, and we've created 15.5 FTE jobs. 14 businesses are in development. 10 people who otherwise could not have received a loan have accessed $43,000. We empower people to make their dream businesses a reality! Beyond cultivating job opportunities and new businesses in our community, CIC creates cross community connections that will strengthen our community for years to come.
We are excited to help vote since we involved in our community. Just last week Brian went and delivered the Birthday Boxes the Girl Scouts made to the food pantry. We participate in Operation Christmas Child boxes too. We love to keep the kids involved in the community and hope to find a local project to help with this summer. How do you get involved in your community? Who will you vote for in the State Farm Neighborhood Assist program? Leave us a comment and let us know!