Alright, this is a day late here, but I can hardly be held accountable.  Beth took the camera to work with her yesterday and she had to work late!  So I didn't get a picture until it was too late to really post.  Dealing with a new dish, three kids, and no camera, I'm happy to have a post up at all at this point.
When Beth and I were up in Philadelphia this weekend, we picked up dinner at Reading Terminal Market (really, if you are ever in Philly, this is a "must go").  We looked around for a bit and finally settled on a little Middle Eastern stall.  I'm a sucker for shawerma (similar to a gyro) so I got that.  Beth got a chicken kabob platter that had several sides.  One of the sides was a tasty little green bean dish served over rice.  It had this very light tomato sauce with it that really did the dish justice.  After doing a little research, I found out that this simple dish is called lubia (or lubya, or loubia, or lubio, etc).  Basically, that's the Farsi word for green bean.  It appears to be of Persian origin, but is seems to be a pretty common comfort dish throughout the Middle East.  As with any comfort dish, you can find as many recipes for this as you can find grandmothers who make it.  Here is my humble attempt.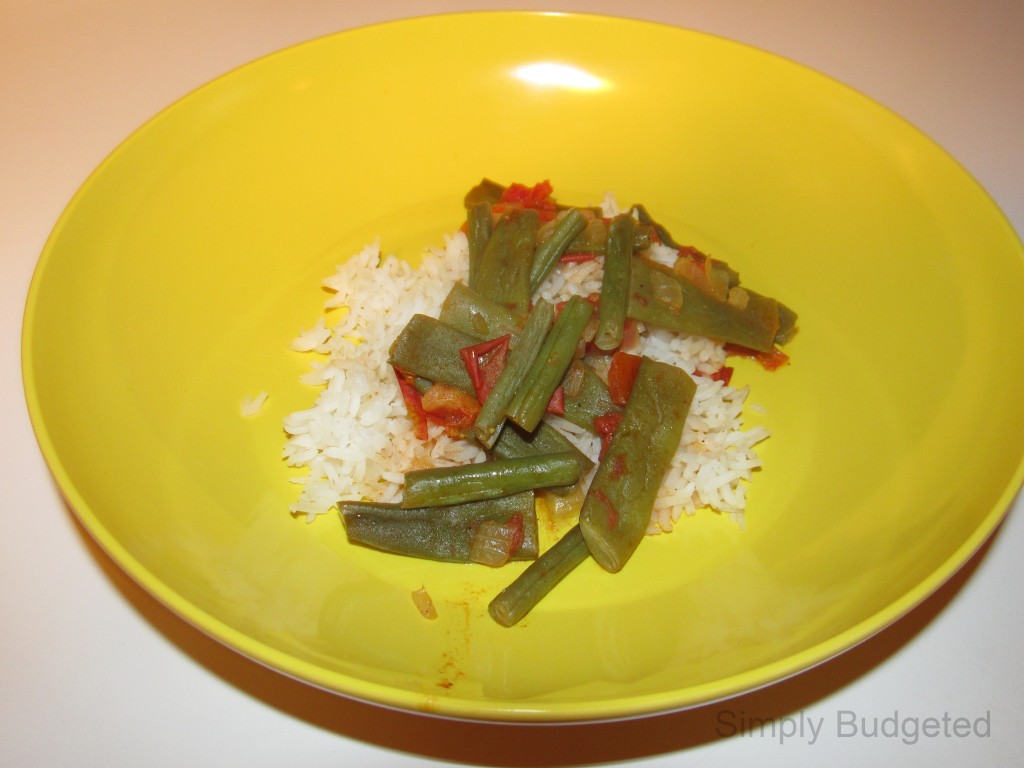 Lubia
This can be served over rice as a main dish (our kids ate it all up…Clean Plate Club!!) or as a side to your everyday meal.  Some recipes I saw for this even included ground meat among the dish's ingredients.  We used a mix of green beans and Italian beans because that's what we had around the house.  We also used fresh tomatoes because they were here.  However, a large can of tomatoes and a bag of frozen green beans would work out very well.
Ingredients
2T olive oil
1 small onion, diced
2 cloves garlic, minced
4 small tomatoes, cored, seeded, and diced
1 1/2 t salt
1 1/2 t pepper
1 1/2 t cinnamon
2 lbs fresh green beans, cleaned, stemmed, and cut into 1″ pieces
1 C water
Directions
Add olive oil to a 12″ skillet over medium-high heat.  Add onion and garlic and cook about 5 minutes until translucent and just beginning to brown.  Add tomatoes, salt, pepper, and cinnamon and stir to combine.  Add green beans, but do not stir.  Cover and reduce heat to medium-low.
Allow to cook for about 15 minutes before stirring.  Add water, cover again, and allow to cook for about 10 minutes or until green beans are tender.  Uncover and let sauce reduce for about 5 minutes.  Serve over rice.
We hope that you enjoy this rendition of a popular Middle Eastern dish.  Leave us some comments to let us know how you like it.