Meatless Monday is a day late this week (hey, it has been a hectic couple of weeks around this household, plus it was Labor Day!).  We are still on a bit of a quinoa kick, so we were looking for something interesting to do with it.  I came across this recipe for quinoa pancakes from Everyday Food, one of Martha Stewart's magazines, and I just knew that I had to try it out.
The great thing about these is that they are pancakes (I mean, who doesn't love a good pancake), but they are pancakes that are full of all of the goodness of of quinoa.  So lots of nutrients, protein, fiber, etc and the kids eat them all up.  I made some silver dollar sized ones and our three kids ate three pancakes each!  I was worried that there wouldn't be enough for me!
Now, I love breakfast for dinner.  It was something that I grew up having from time to time and every now and then I have to get back to those roots.  It being Meatless Monday, I couldn't start adding bacon or sausage to the meal.  So, to up the breakfast quotient a bit, I had to add a couple of eggs.  Now, before the Meatless Police gets on me here, eggs are not really a meat until Mr. Rooster comes along.  I also know that conditions at the big egg farms are deplorable.  I do know, however, that you can get fresh local eggs from very humane farmers.  If the idea of eating eggs turns you off, don't eat them.  The pancakes will be fine all by themselves.  All of that having been said, for me, eggs are healthy, rich, and tasty and they certainly add to the pancake experience.
So, without further ado, here is the recipe reprinted from the Martha Stewart site without their permission (if you see it down all of a sudden, you'll know that I got a "nasty-gram" from some corporate types).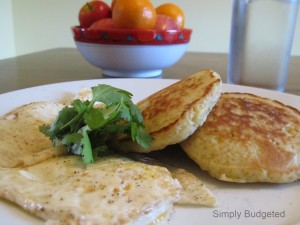 Ingredients
1 cup cooked quinoa or brown rice
3/4 cup all-purpose flour
2 teaspoons baking powder
1/2 teaspoon coarse salt
1 large egg, plus 1 large egg white
1 tablespoon unsalted butter, melted, plus more for skillet
1/4 cup low-fat milk
2 tablespoons pure maple syrup, plus more for serving
Fresh fruit or fruit preserves (optional), for serving
Directions
In a medium bowl, whisk together quinoa, flour, baking powder, and salt. In another medium bowl, whisk together egg, egg white, butter, milk, and syrup until smooth. Add egg mixture to flour mixture and whisk to combine.
Lightly coat a large nonstick skillet or griddle with butter and heat over medium-high. Drop batter by heaping tablespoonfuls into skillet. Cook until bubbles appear on top, 2 minutes. Flip cakes and cook until golden brown on underside, 2 minutes. Wipe skillet clean and repeat with more melted butter and remaining batter (reduce heat to medium if overbrowning). Serve with maple syrup and fresh fruit or preserves if desired.
I hope you enjoy these!  I know that we did.  Tell what you use to top these.  We used syrup like we normally would for pancakes, but surely we can be a bit more interesting.  Any ideas?  Let us know!